Automate your cancellation fee should your client cancel an appointment, package or subscription last minute. To set your cancellation policy, tap on Settings > Cancellations. Make sure to also tap on Settings > Scheduling > Requires Credit Card > Always to ensure cancellations are enforced in the system.
Setup:
On the cancellation screen, you'll set the automatic charge and policy. PocketSuite does the work for you so you don't have to figure out who to charge.
The cancellation fee (late fee) is triggered to charge the client the amount that you set if the client cancels their appointment, package, or subscription within the deadline (cancellation window) selected. The late fee can be set as a percentage of the total or a fixed amount. If you have a deposit set on your appointment, the late fee will first be deducted from the deposit and if there is a remaining balance, the client's card will be charged automatically. If the late fee equals the price of the deposit, there will be no additional charge to the client's card.
Deadline Example: If you set a deadline for 24 hours and the client cancels 23 hours before their appointment, they will be charged a late fee but not if they cancel at 25 hours.
For package cancellations, you have the option to select if the client loses a session, is charged the late fee, or both.
For subscription cancellations, you have the option to set it as a percentage of the total or a fixed amount. Subscription cancellations can only occur once a subscription is active, after the 1st payment. Should the client fail to cancel the subscription within the deadline prior the next charge, the subscription cancellation amount will be charged.
Setting your cancellation policy is crucial to ensure your clients understand the reason behind any cancellation charges.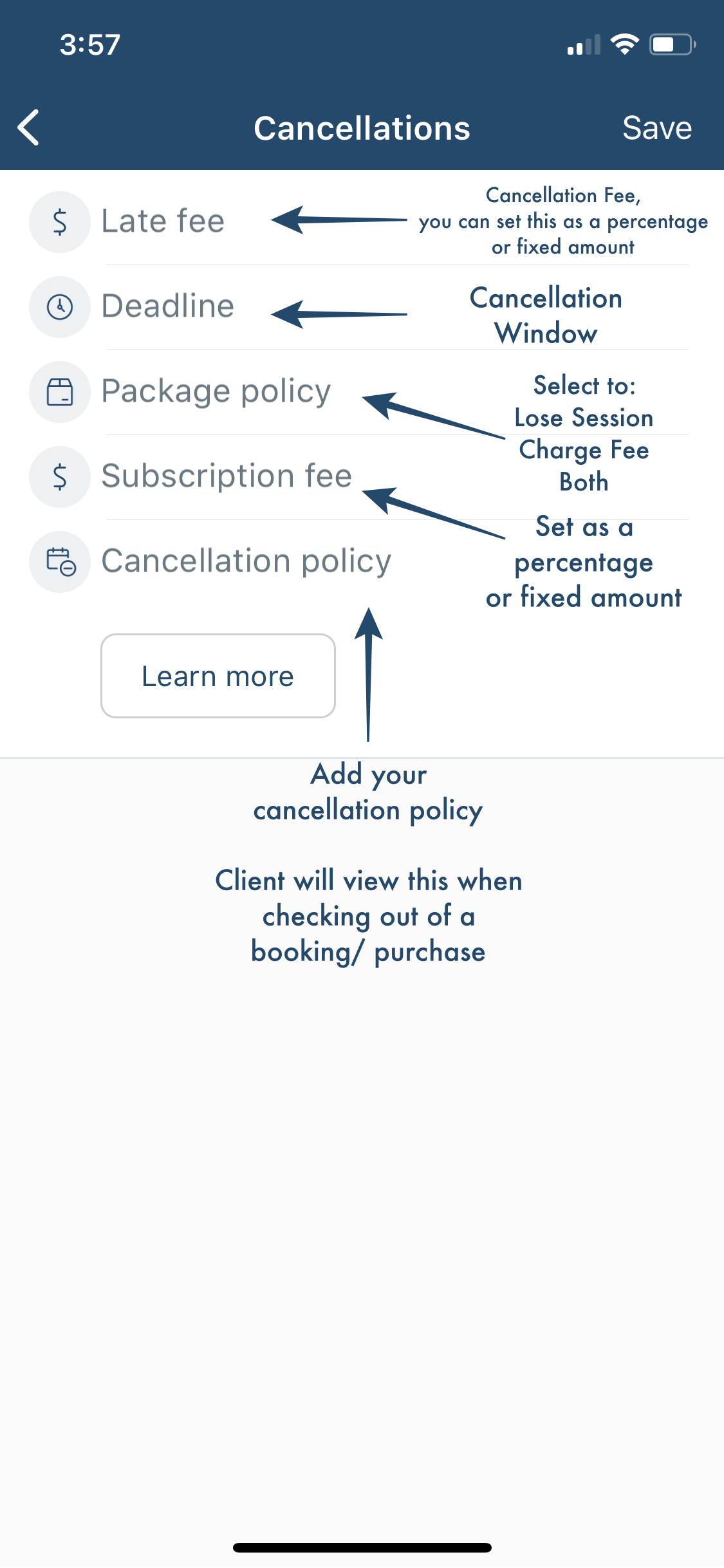 Pro Tip: If you do charge a cancellation fee, it's good to have a policy in place for the safety of your business. For additional assurance, we recommend to also have your clients sign your cancellation policy as a contract. This will ensure your clients have read and agreed to your cancellation terms. Information on how to add a contract can be found here. If you need any help with your contract, message Pocketsuite support in app.