A cancellation policy allows you to have PocketSuite do the work for you!
You can set a cancellation policy in Settings > Cancellations.
Quick Setup:
The late fee is for any appointment scheduled and the deadline is the point at which they will start getting charged. Subscription fee is if they cancel a subscription after the first payment is made. The cancellation policy is where you'll put the wording for the policy so clients see it when booking an appointment or purchasing a subscription.
Detailed Setup:
In settings, find cancellations. You'll set the automatic policy here. PocketSuite does the work for you so you don't have to figure out who to charge.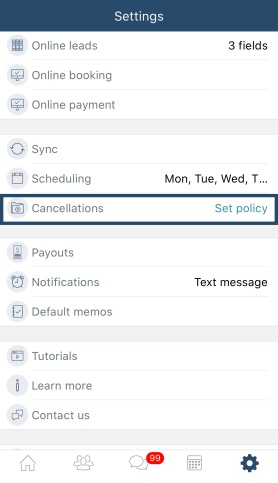 Once you've clicked, you'll be taken to the screen below. For appointments, select a late fee of a percent or fixed amount. The deadline is the point at which they will start to get charged. For example, at 24 hours, if they cancel 23 hours before their appointment, they will be charged a late fee but not if they cancel at 25 hours. The subscription fee is if someone cancels a subscription after they've already made a payment. Finally, the cancellation policy is where you'll write the description for clients to see when they book an appointment or purchase a subscription.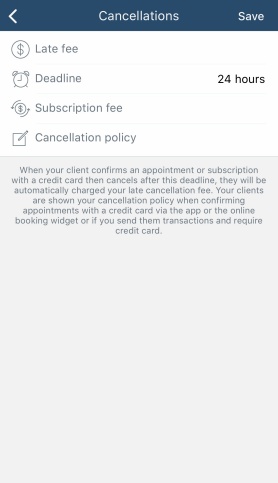 Protip: If you do charge a cancellation fee, it's good to have a policy in place for the safety of your business. You can also have them sign a contract. If you need the contract uploaded, send it to support@pocketsuite.io and we'll upload it for you.