The contracts feature in PocketSuite is a super easy way to protect yourself financially and legally. You can set up liability waivers in the unlikely event a client is injured, have them sign that they understand and agree to your cancellation policy, or much more!
Quick View:
To get started, be sure the feature is turned on. Go to Unlock more features > contracts > save. You'll then have a contracts tab in your settings page. Tap + to create a new contract.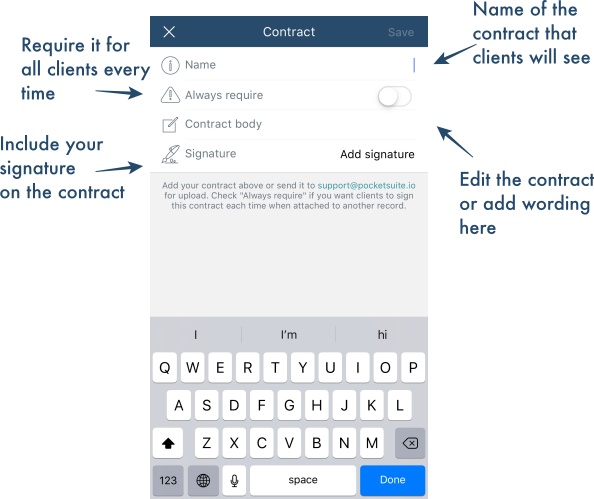 PocketSuite can smartly pull in various info from the client record so you don't have to make a new contract each time. We use "dynamic fields" which will appear in curly brackets- here are the different ones you can use.
Add your contract body (using dynamic fields if you'd like!) and your signature right on the screen. Then you'll have a nice contract you can either attach to services, classes, or packages, or you'll have a link you can send to any client to sign.
Send to a Client
Tap paper and pen at the bottom of a message to pull up a list of everything you can send to a client.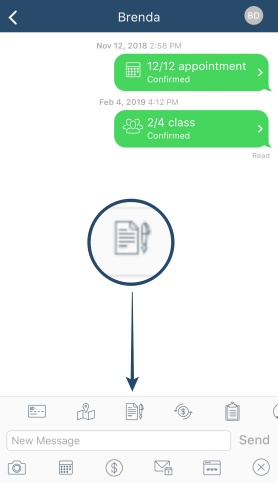 You can go back into settings > contracts > tap the contract and then you can preview it. You can also view it in a browser by tapping the paper with an arrow in the top right corner.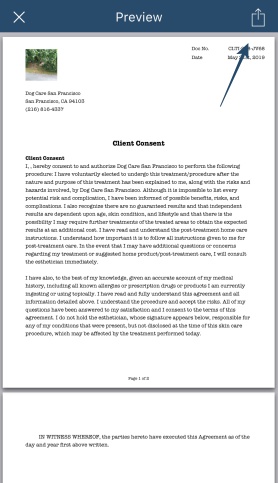 Protip: If you'd prefer, you can send us your contracts in an editable format (such as Word) and we can upload them for you! Email support@pocketsuite.io
Check out the video below for more instruction on this feature: