Smart Campaigns are PocketSuite's most powerful feature. This simple tool allows you to quickly and auto-magically send messages to your clients based on criteria you choose. You can send a general announcement to all clients (such as a sale or location moving notice), send specific instructions before or after a client has purchased or attended a certain type of class or service, entice clients who haven't booked you in a while to come back, and much, much more.
To get started, be sure the feature is on in settings > features > smart campaigns > save.
Quick Setup:
Head to the dashboard and select Smart Campaigns. Select the + and add a campaign. Each one has different ways of narrowing down the clients or just make an announcement to send it to everyone. This is useful in keeping in contact with clients but saving you all the time. After you have saved the campaign, you can swipe from right to left to see the results, pause, or resume a campaign.
Detailed Setup: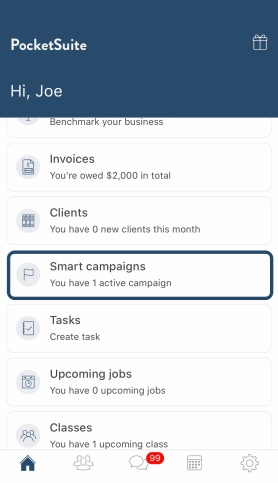 Once that's done, you'll have a Smart Campaign dashboard on your homepage. Your first step is to add credits. Tap the big green add credits button to do it. One credit is 10¢ and sends one campaign to one client. Pros are reporting huge returns on this minimal investment! So far most Pros are earning $18 for every $1 invested in a Smart Campaign.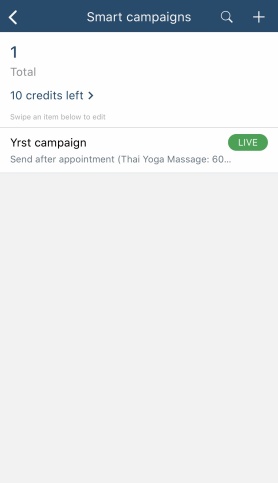 To start a campaign, go into the dashboard and tap +. You can then choose which type of campaign to run- browse through them all so you can see the options!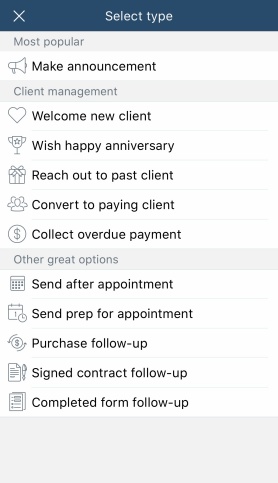 Some campaigns will require you to decide which clients to send it to, others will allow you to add a promotion which you can restrict to certain services or items, and yet others will ask you to decide upon date ranges- days since the customer last purchased something or days since you added the client, for example.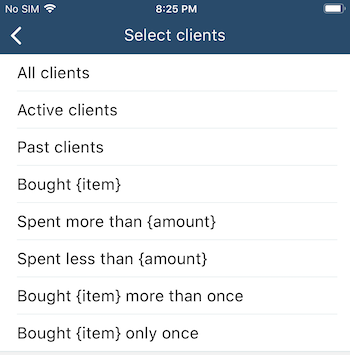 You can optionally "label" or name your campaigns for your convenience. 
Once all your selections are made, you can tap save and you will have the option to "save & launch" or "save & edit later". If you're ready to rock, launch it now! Your campaign will start sending shortly and send twenty-five messages every half hour until you run out of credits or all the clients you selected have been contacted. If you choose to edit later, your campaign will be saved in your Smart Campaigns dashboard as "paused".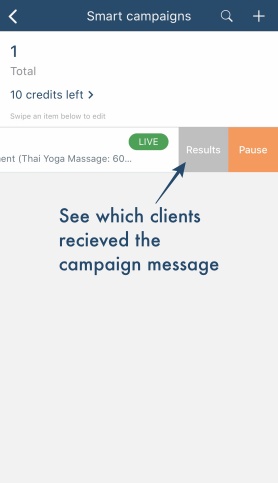 You can see all your campaigns and their status in the dashboard. To pause or resume a campaign, swipe left on it. You can also see the campaign results from there. To edit a campaign, tap on the campaign name in the dashboard.
For a visual representation on this feature, check out this instructional video below: