PocketSuite comes as a super simple appointments and charging system, but you can unlock several advanced features. If you schedule multiple services or have add-on products, you'll need to turn on Itemization. Go to settings > features > itemization > save.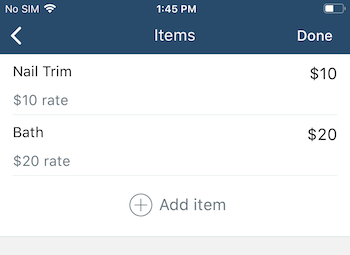 You can then add your items, with quantity if need be, and even add expenses such as gas, mileage, or supplies.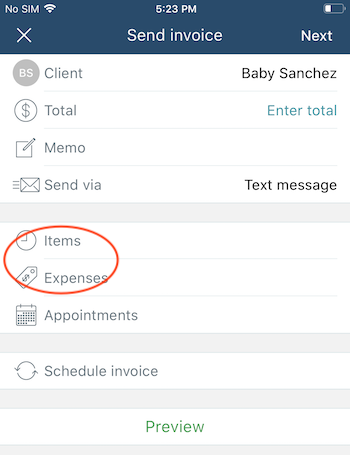 You'll have a lovely itemized view of all the services you've added to an invoice. You can preview the PDF that will be sent to the client, too!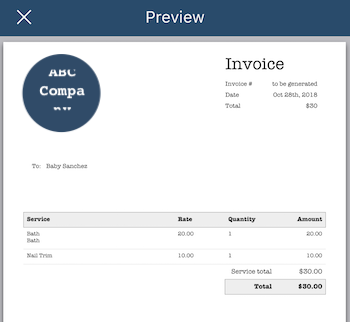 For video instructions on this feature, check out this tutorial:
Video Transcript:
Itemization is an easy way for you to add an additional layer of rich detail to your invoices. I'll show you what an invoice looks like before itemization. Just quick and simple. To turn on itemization, go to Settings>Features, toggle itemization on, we do encourage you to finish watching the video before you dive in, and tap save. Now if we go back to an invoice, select our client, what we can do here is skip the total, and instead go to items, and then we can say that we're going to add 10 yoga mats that Sam is giving two his wife and his wife's sisters as a present. If we preview, we can see that the name of the service or a product, a description of the product, how much it cost, the quantity, everything's added up for you automatically and you have a great total. You can also add things such as expenses, say there to $10 travel fee, and then you could also attach it to appointments if there were any unpaid appointment that you could put on the invoice. Once again I'll show you one more preview. Alright we do encourage you to itemize your invoices, it helps everyone in the long run, and it's really great for your record-keeping.
Settings>Features
Toggle Itemization to on, tap save.
Select an invoice.
Select a client and skip Total.
Go to Items.
Add all itemized items/services.
Add any additional expenses incurred (e.g. food for a pet that's being cared for, travel time, etc.).
Attach to any unpaid invoice if necessary.
Send to client.