Subscriptions are a great way to get your clients on recurring payment plans for different services, classes, and packages you may offer. You can turn subscriptions on by going to settings > features > subscriptions > save.
You'll then have a subscriptions tab in settings where you can tap + to add a new subscription type. Add a descriptive name so your clients can easily choose it when booking online. You'll need to decide the frequency of their payment- monthly is the most popular.
Protip: 4 weeks will be every 28 days, but every month will be on the same calendar date each month.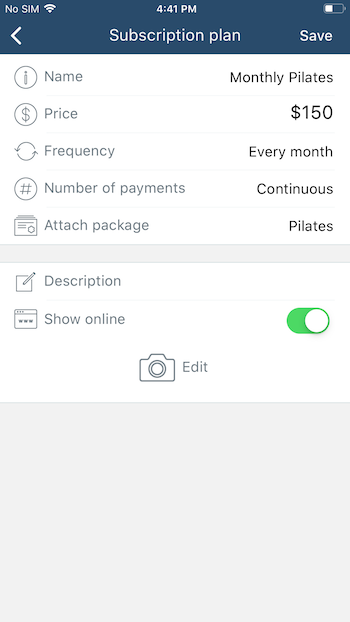 Then you can add the number of payments- we hope that this will be continuous forever for you, but if it's something with an end date (Summer Boot Camp, for example), you can add the number here. There is also an enrollment (startup) fee and you can offer a discount for a set number of payments. You always have to attach a package to a subscription- the subscription is only the monetary component and doesn't include any sessions itself. The subscription price overrides the package price.
Protip: Subscriptions run on the date they're due at 10:30 am Pacific time.
Lastly, give it a great description and photo to entice your clients to purchase it online when they're saving you time by booking themselves online!
Protip: If this is a special offer just for a certain client or group, you can toggle off "show online" to prevent others from purchasing it
For a visual representation of this feature, check out this instructional video below: