Team members allows you to grant your employees access to your PocketSuite account with the access you provide. You can customize everything from their ability to contact clients to reporting. With a Plus account, head to settings>features and be sure Team members is toggled on.
Quick Setup:
From the team dashboard, tap the + on the top right. Then, you can add a new staff member with a name and phone number. Once you have their information into PocketSuite, you can then edit what access they have their schedule, what jobs they can do, how they get paid and more. Depending on what access they have, depends on what type of settings you can edit. After you've added the employee and selected their role, the app will walk you through their specific setup.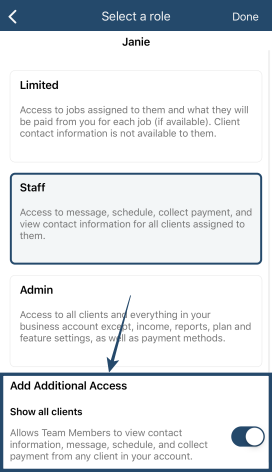 Detailed Setup:
After you toggle on teams from settings>features, tap on the team dashboard on the home screen.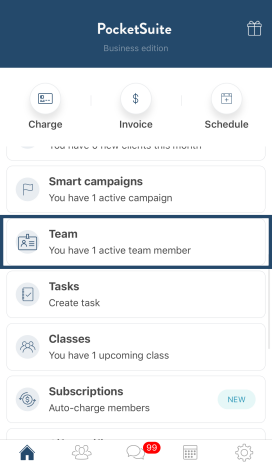 Then, you'll be in the team dashboard. When you tap + to add a new employee, you'll need their name and cell phone number to add them.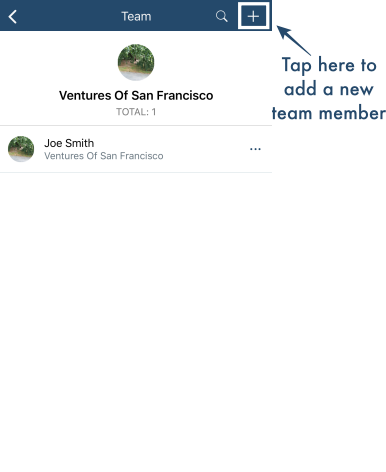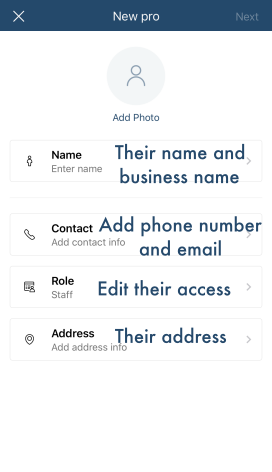 For their role, you can decide how much access is given to this particular employee. Limited allows them to see client information but not actually message them. They can get jobs assigned and clock in and out. Staff has the same access but they can contact the client and collect payment. You can select if you want them to see all clients or just the ones on their appointments. Finally, Admin can see it all. You can decide if they should have access to income reports or if they should share your inbox/have their own inbox.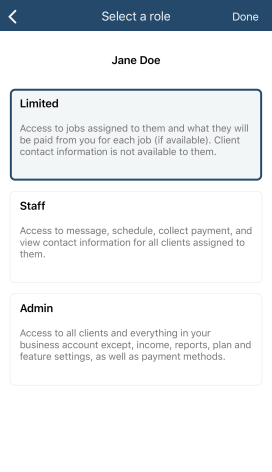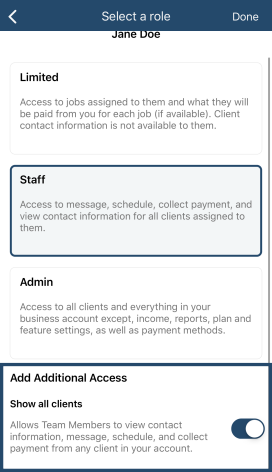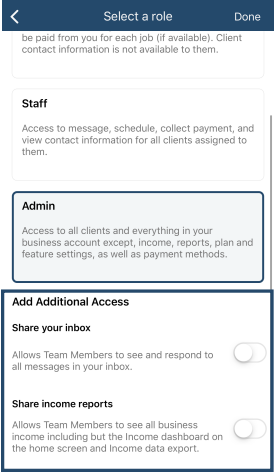 After you select their main access, you can set their notification settings, when they get reminders, and if they get a daily summary of their appointments.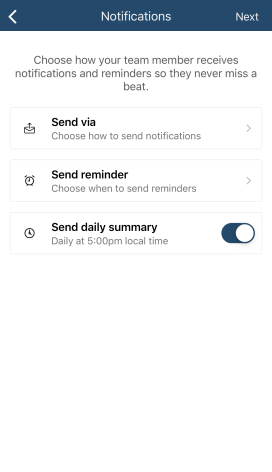 Then, you can decide if they should be assigned jobs, if you want to pay them with PocketSuite, and if they should have their own premium number. Toggle on the items you want to edit.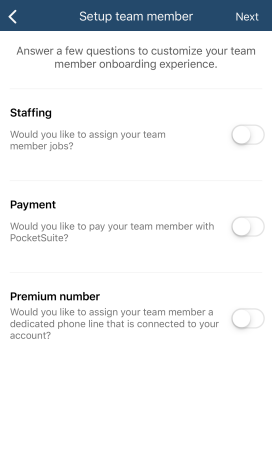 Then, you'll set their availability, time zone (if different), if clients should see them online, their specific services, and a bio if you'd like! You can also set how they clock in and out of jobs.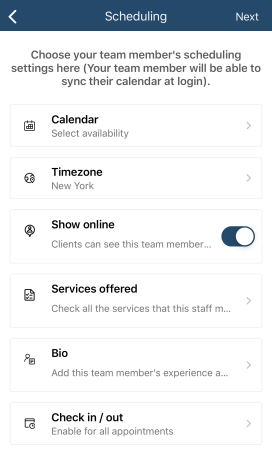 For the check in/out feature, you can customize what the team member needs to do for each time they clock in and out.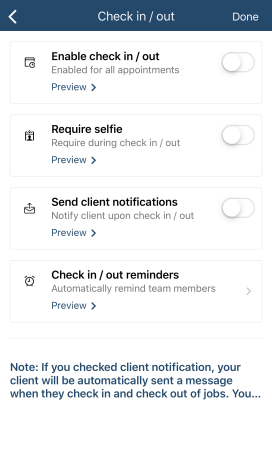 If you selected to pay them through the app, you can customize how much they get paid per type of sale.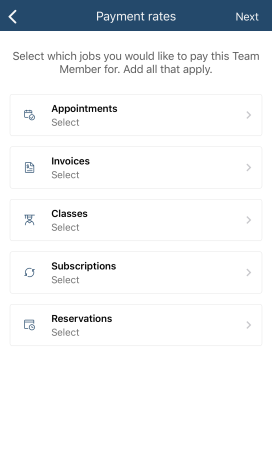 If you do want them to have their own business number, be sure to toggle on the option extra number.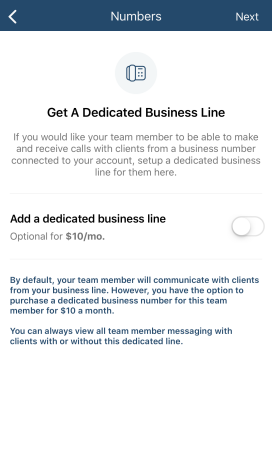 Once you're done, you can customize the email they get inviting them to download the app and login.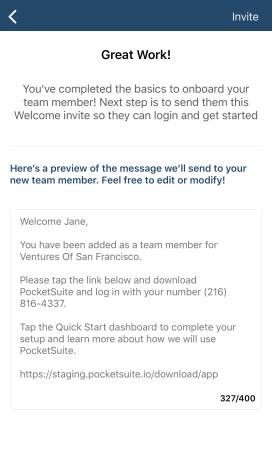 After they are all set, you can go to the team dashboard and see their new profile. The dashboard tells you how many active team members are on your account.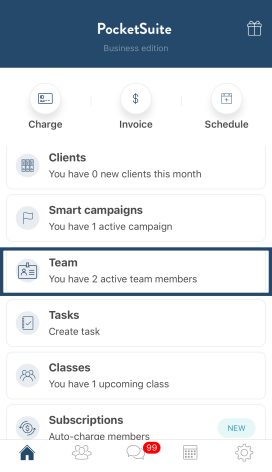 Here, you can pay them, view their calendar, view their inbox, edit their profile, or add a new staff member.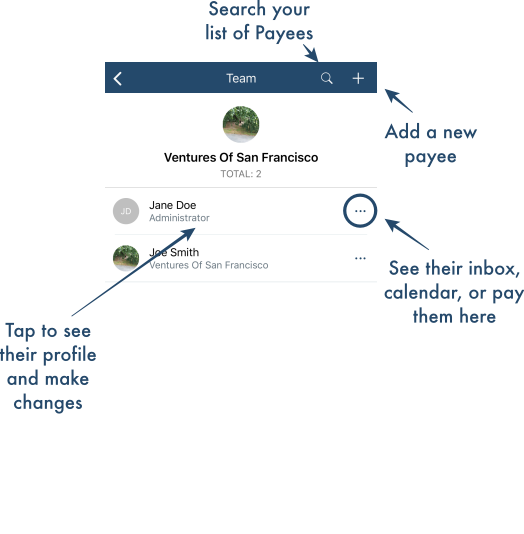 The three dots give you three options. Those are to pay your payee, view their inbox if they don't have shared inbox, or view their calendar.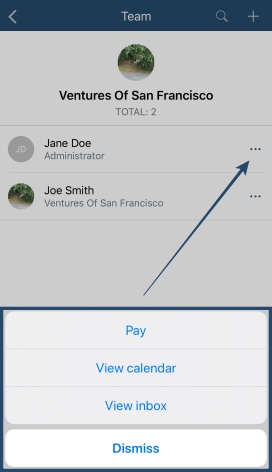 If you tap on their name, you'll see their profile and access options.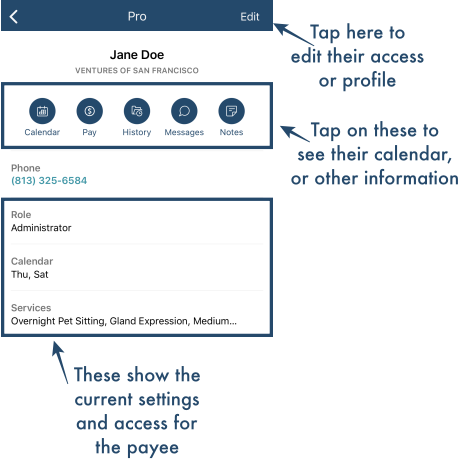 VIDEO:
Check out the video tutorial here: