Once the imports team is done with your import, you'll get two email notifications. Once you get those emails, the form will have been imported into your account. Note, to see the form, you may need to log out and back into the app to see the changes.
If you haven't already, head to settings>features and toggle on Forms.
Head to settings>Forms and there, you'll see a list of all your forms. From here, you can tap on the form name or tap on the blue fields link. The form name takes you to the form settings and the blue fields link takes you to the questions. You can always go here and edit the questions or answer choices.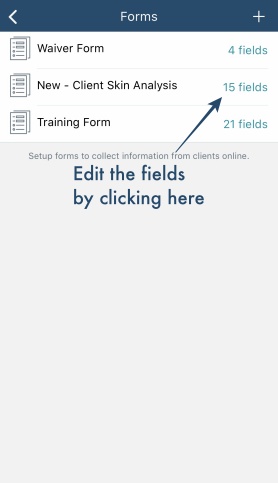 When you tap on the form name, you'll get the details of the form where you can change the name, description, make it always required, have it show online or even attach a contract.
It's important to note that the always require field, only applies to when you automate your forms. If you attach a form to a service, package, subscription, or to online booking directly, the client only sees it if they don't have one on file. If you toggle on always require, they will have to fill out the form every time, even if one is already on file.
If the form is internal only, toggle off show online. Otherwise, keep that on if clients will be interacting with the form or you're using it with a contract.
You can also tap preview to see the client version. Forms can also be posted online. Tap email under the instructions field to get the instructions to add the form to your website or social media to use it as a lead form.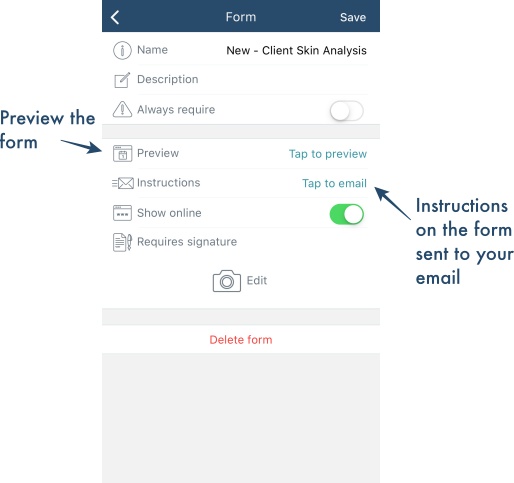 Don't forget, to automate your form, just attach it to the service, product, subscription, or directly to online booking where you see the Requires form field. You can also send it with appointments or other things you send directly to clients. Just keep an eye out for the Requires form field!