PocketSuite makes it easy to expand your retail offers with Online Products. Now you can sell products to clients without booking an appointment. You can set up an e-commerce store right on your PocketSuite booking site! And if you have services that pair well with a product, like a yoga mat for a hot yoga session or shampoo with a haircut, you can upsell those products when clients book you online.
To get started, toggle on the feature in Settings>Features> Online Products
In this article:
Create a New Product
To get started, go to Settings>Products. Then Tap on the + symbol to create a new product or add one of our industry-specific product defaults.
You'll see the form below. Fill out the form with the product name, price, description, weight, and package size. And don't forget to add a picture!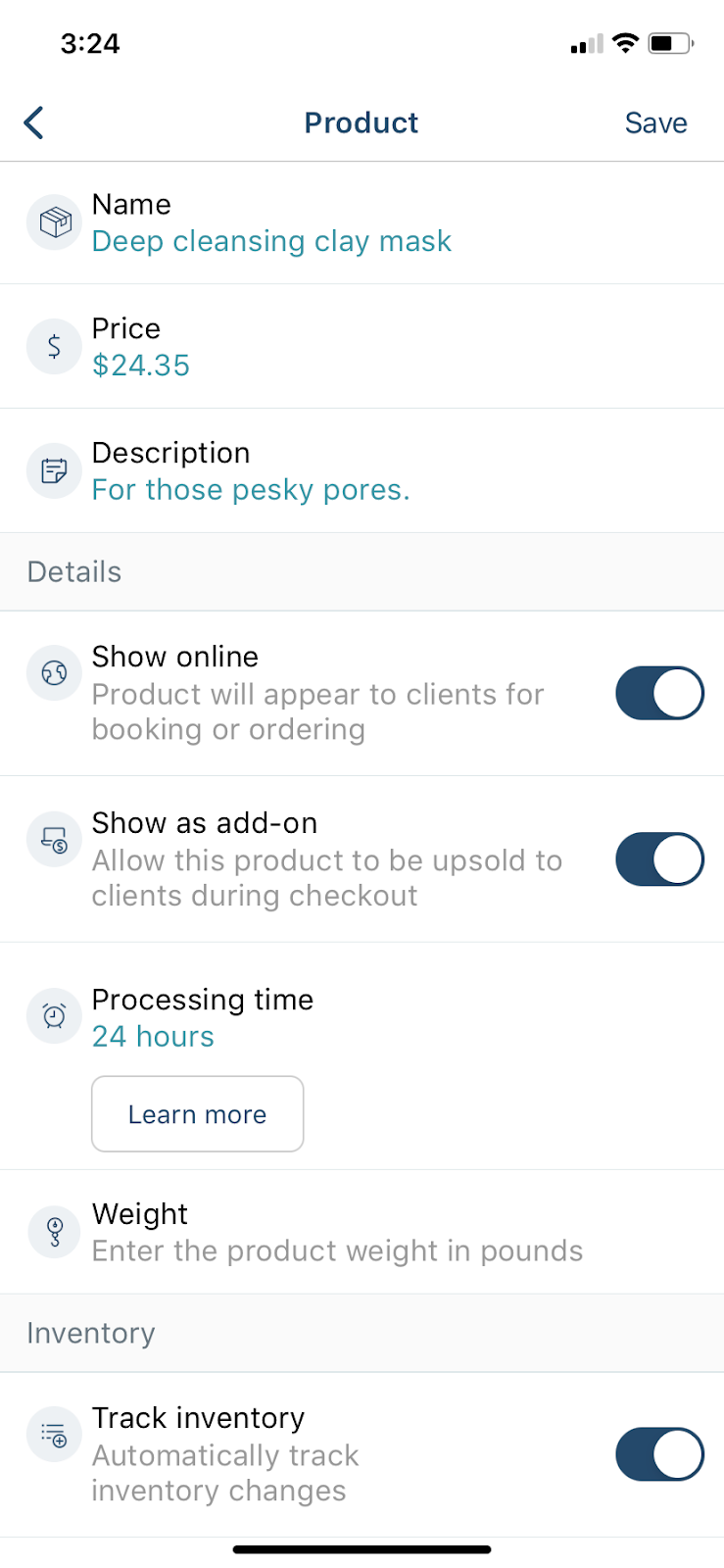 Toggle on "Show online" so clients can purchase the product through your Online ordering link or your Online booking link.
Toggle on "Show as add-on," if you want to upsell this product to clients during checkout, You can decide which products will be upsold for each of your services. Read this guide to learn more about adding products to a service.
You can also choose to track inventory on this screen.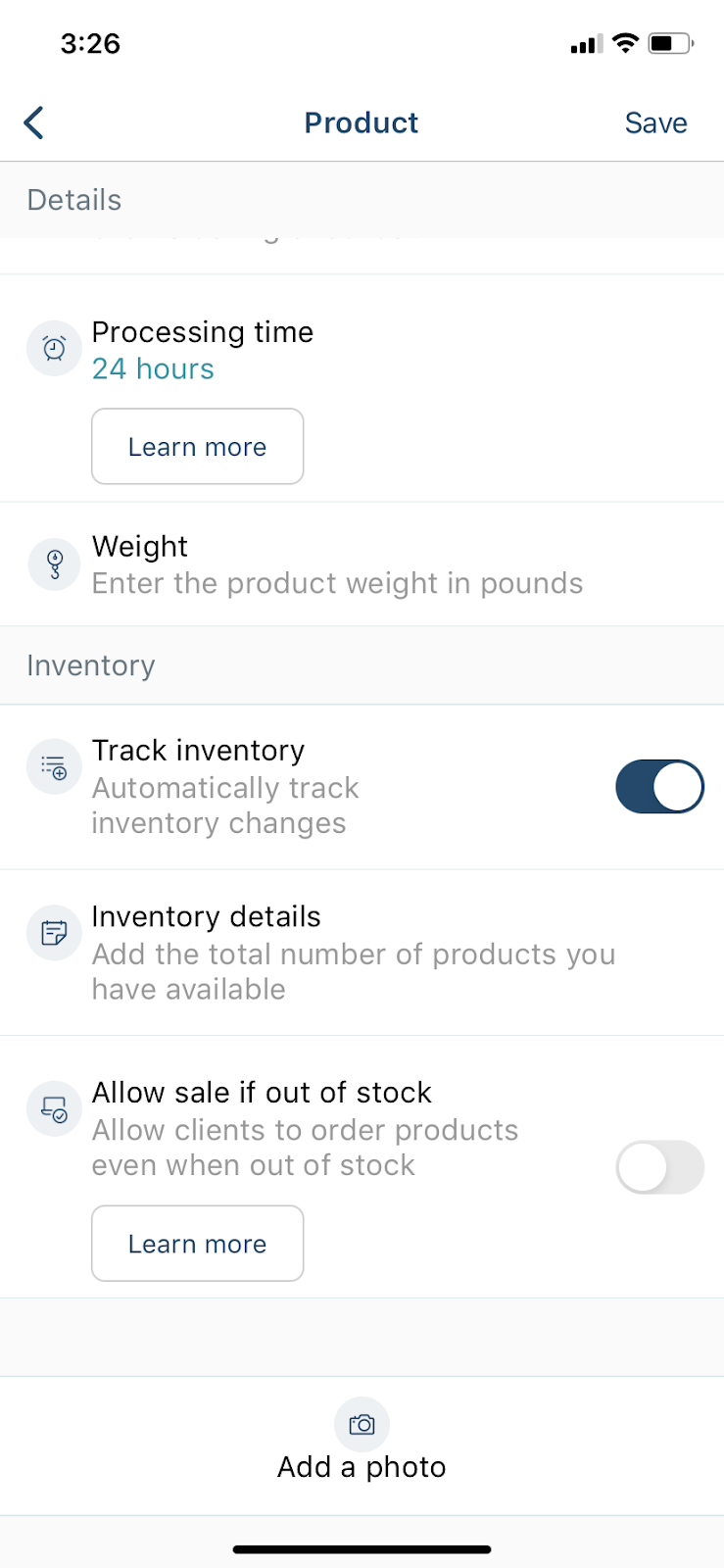 Note: You will be asked to select a processing time. Processing time is your window to prep and package the order before it's ready for pickup or delivery. You can choose anytime up to 4 days after placing an order. Processing time applies to both pickup and shipping orders.
Set Default Delivery Preferences
Next, set your delivery preferences for all product orders. These are just global defaults and can be changed for each product order.
Go to Settings>Product orders. Here, you can choose pickup and delivery preferences and whether or not the orders require a credit card and confirmation.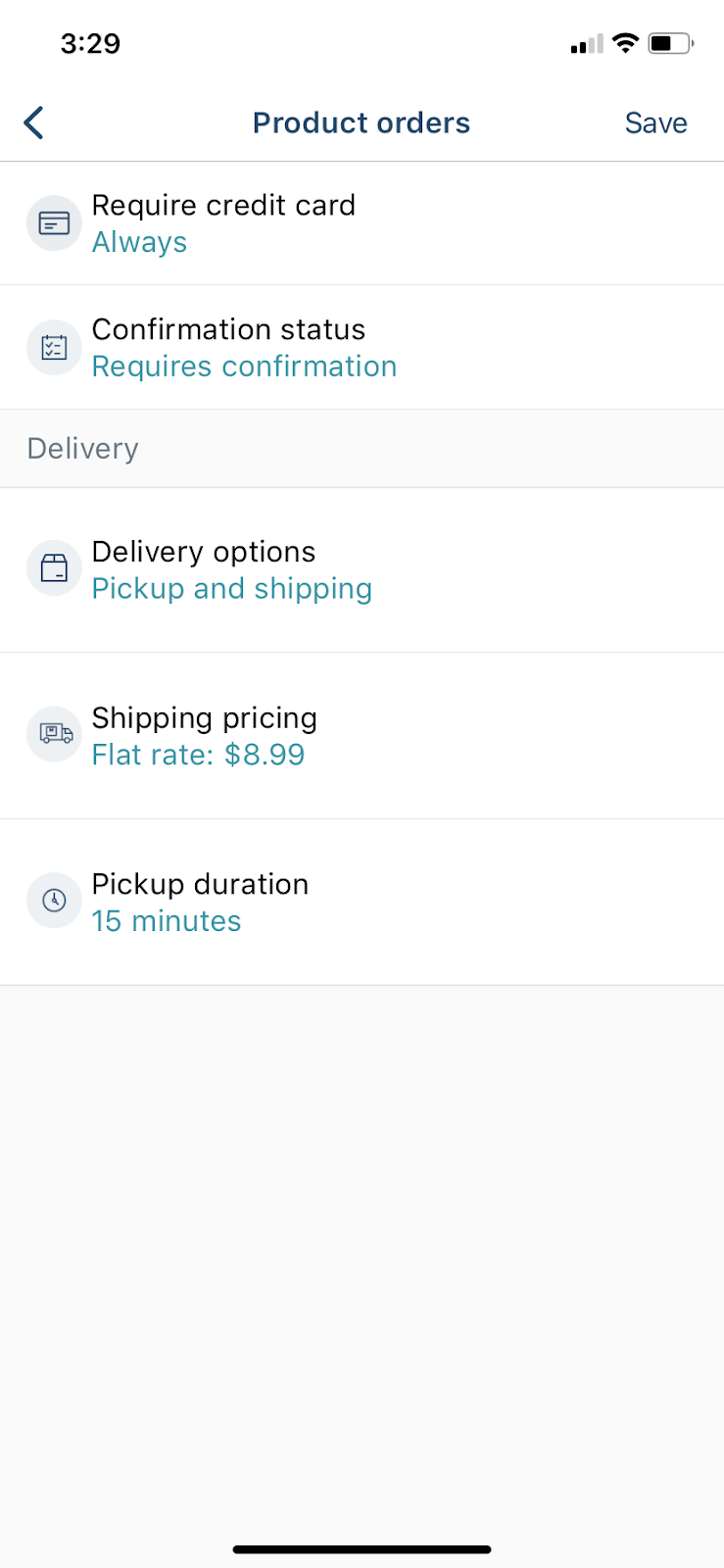 Tap Delivery options to decide if your online products will be available for pickup or for both pickup and delivery.
Note: Make sure to add a business address to your profile in Settings>Location, or clients won't be able to select Pickup at checkout.
Tap Requires a credit card to choose whether or not your clients will have to add their credit card when ordering online. If you set a cancellation policy for your product orders, the "Requires credit card" setting will default to "Always."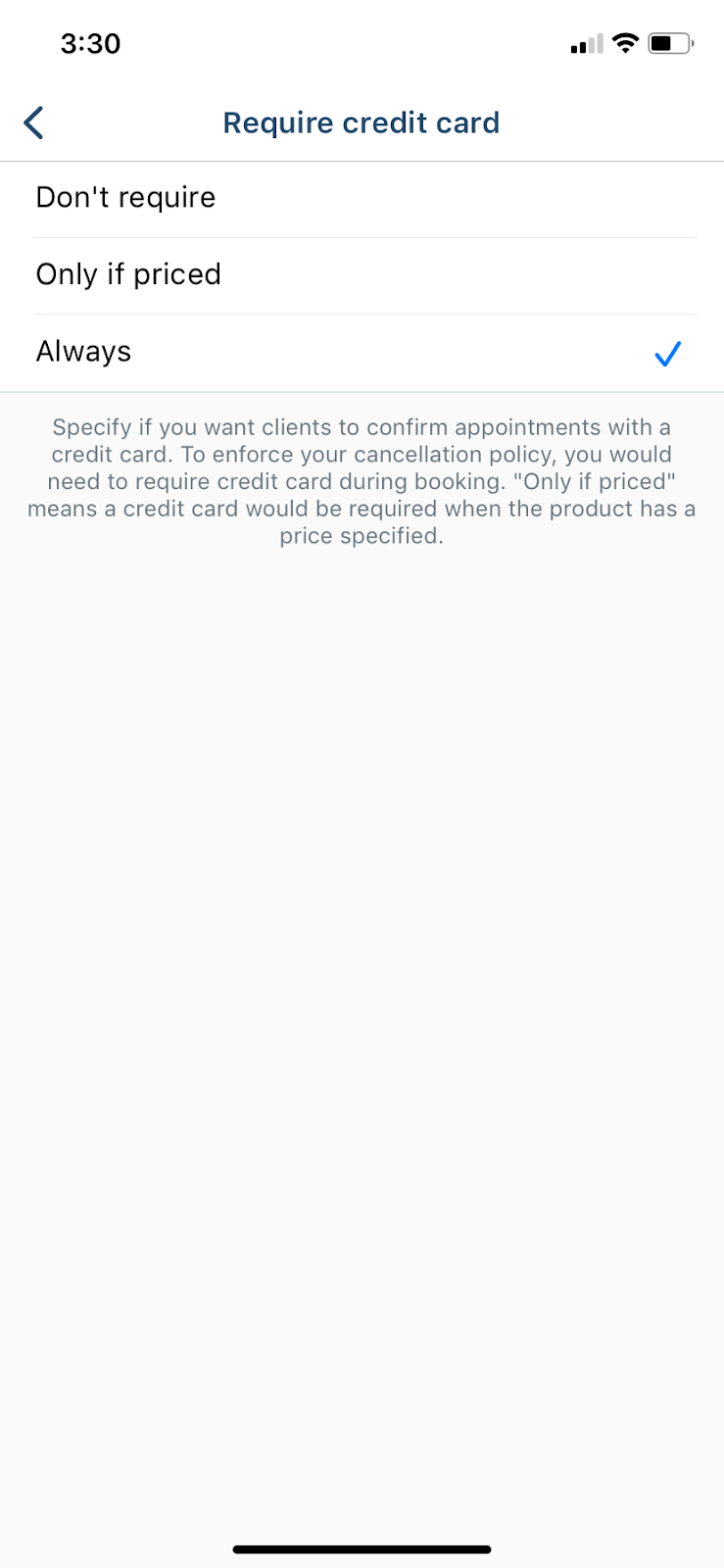 To set a default shipping fee, hit Shipping pricing > Pricing method.
You can choose if the shipping price will be calculated per carrier, per pound, per unit, or as a percent of the total. Or, you can set a flat shipping rate.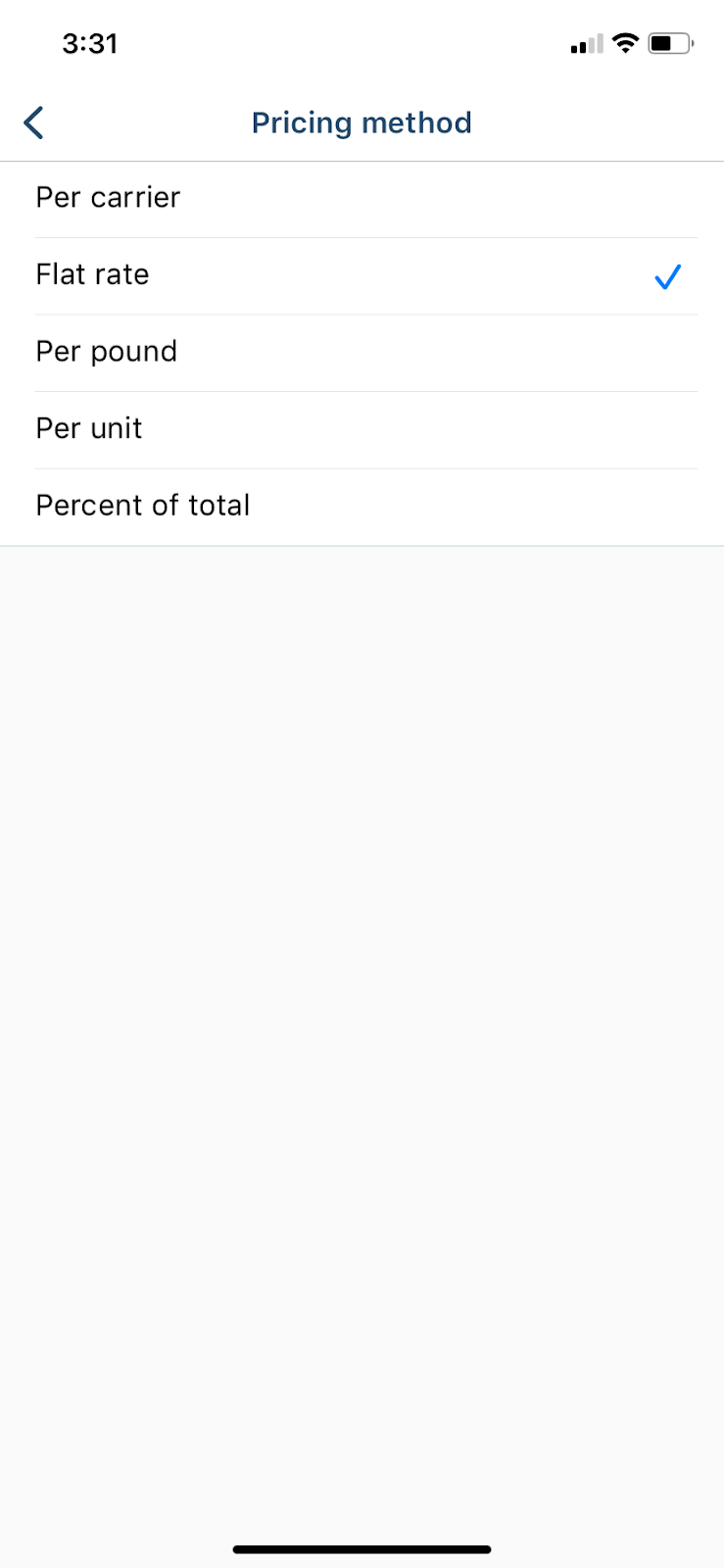 If you select "per carrier", you can choose between UPS, FedEx, or US Post Office as the carrier.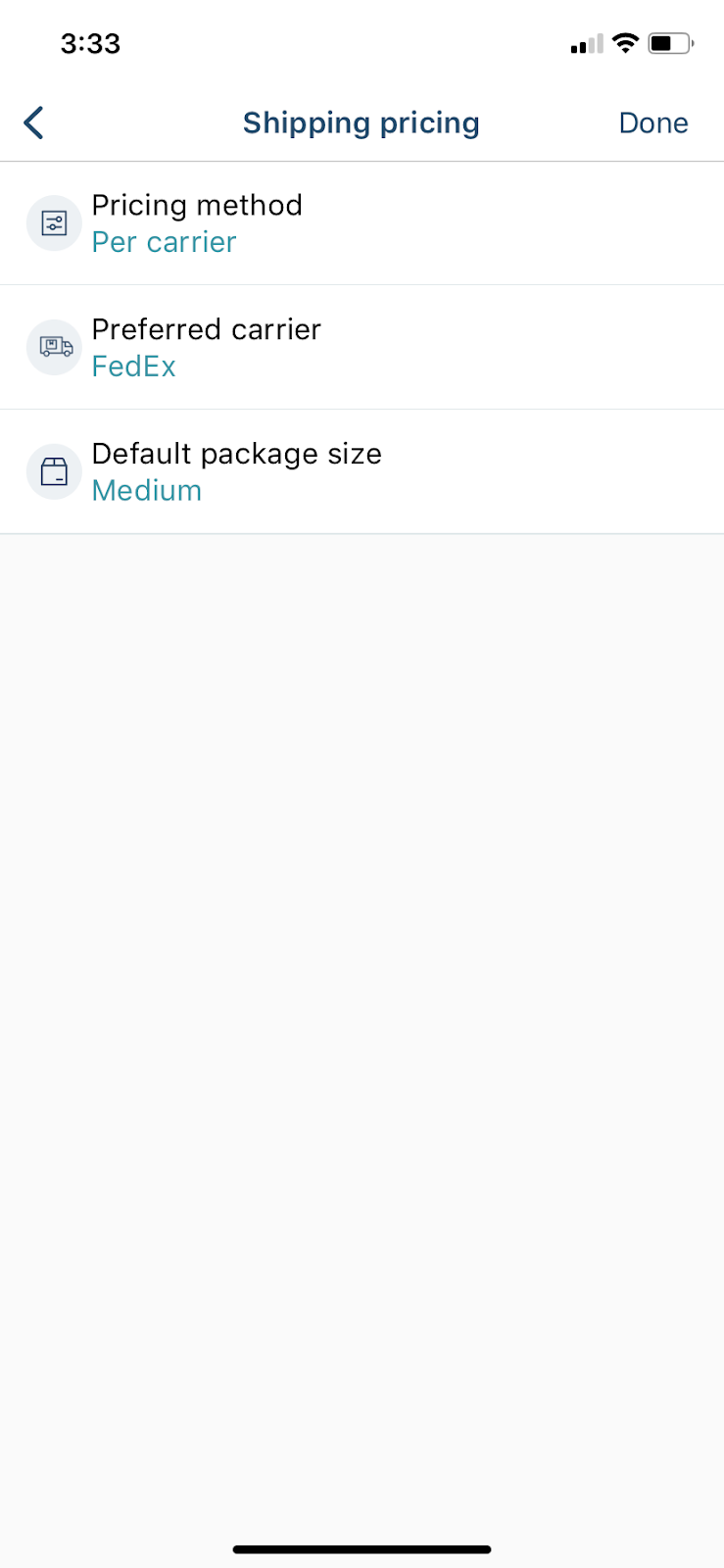 This shipping fee is just an estimate and can be adjusted for each transaction.
Important: Remember to set a pickup duration. The pickup duration is a time slot on your calendar when the client can come to pick up the product. If you don't set a pickup duration, then your schedule will be shown as available for appointments and/or other pickup orders at that same time.
Create and Manage Product Orders
You can manage product orders from your PocketSuite dashboard. Go to Home > Orders.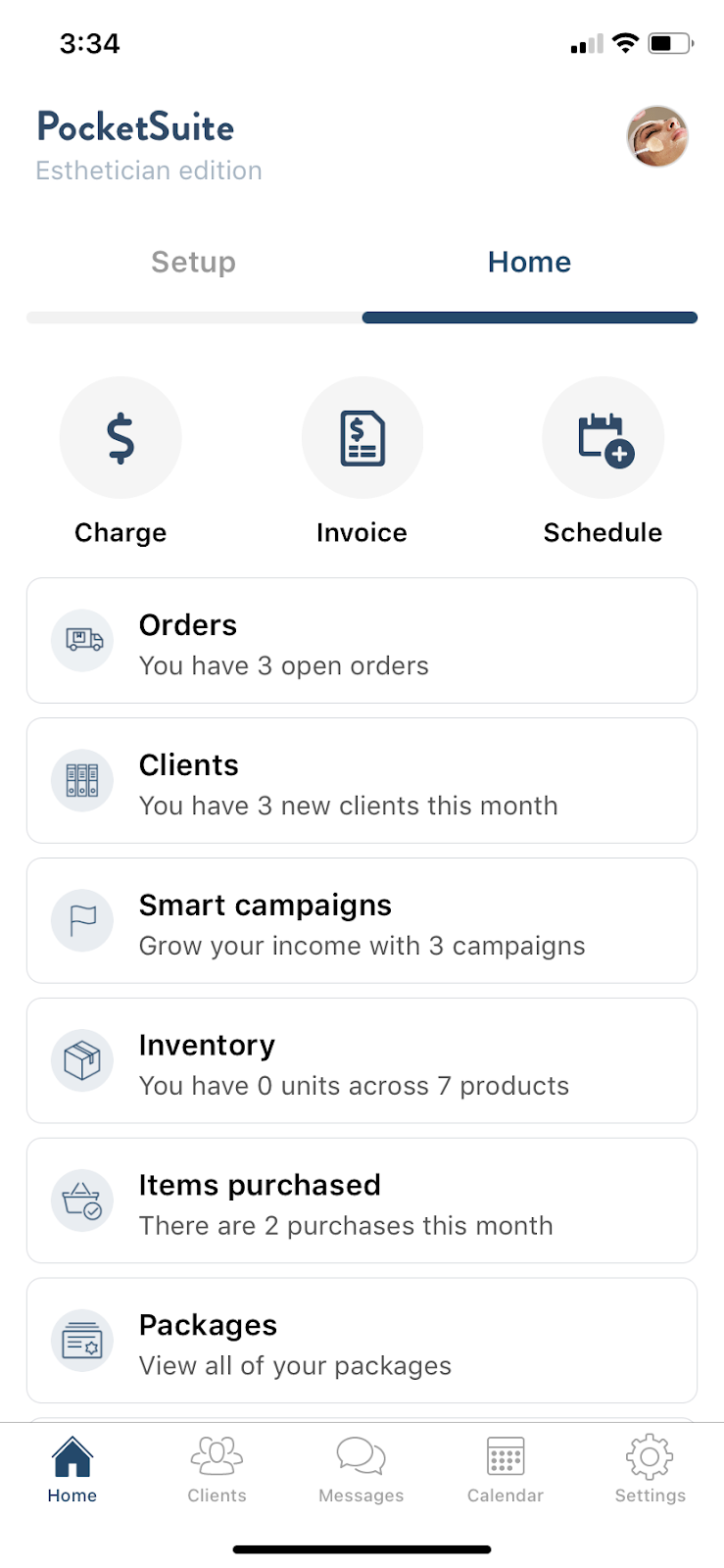 On the next screen, you can view all your product orders or filter them by date, payment status, and shipment status.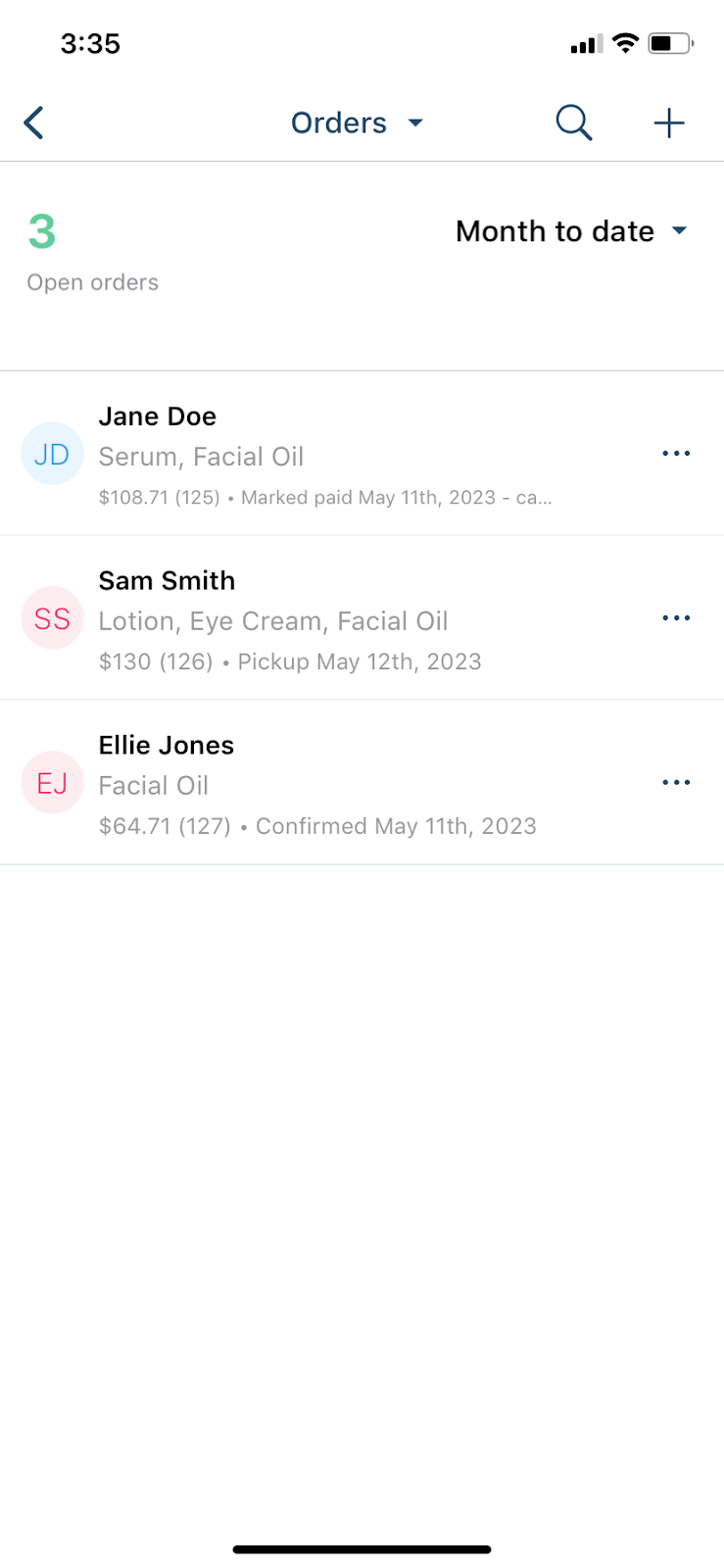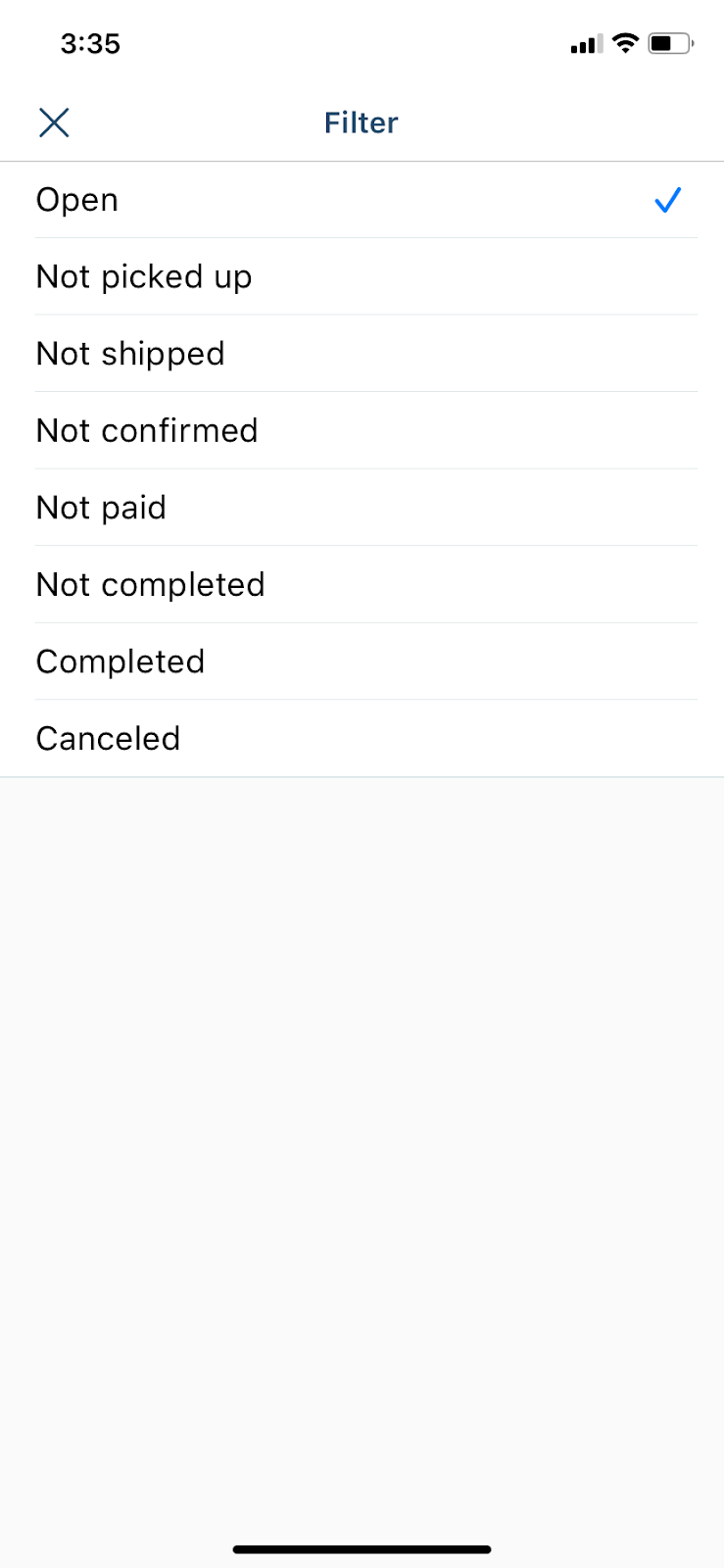 You can also create a new product order. Tap the + symbol.
Next, fill out the product order form below by selecting a client, product, and delivery method and setting the location.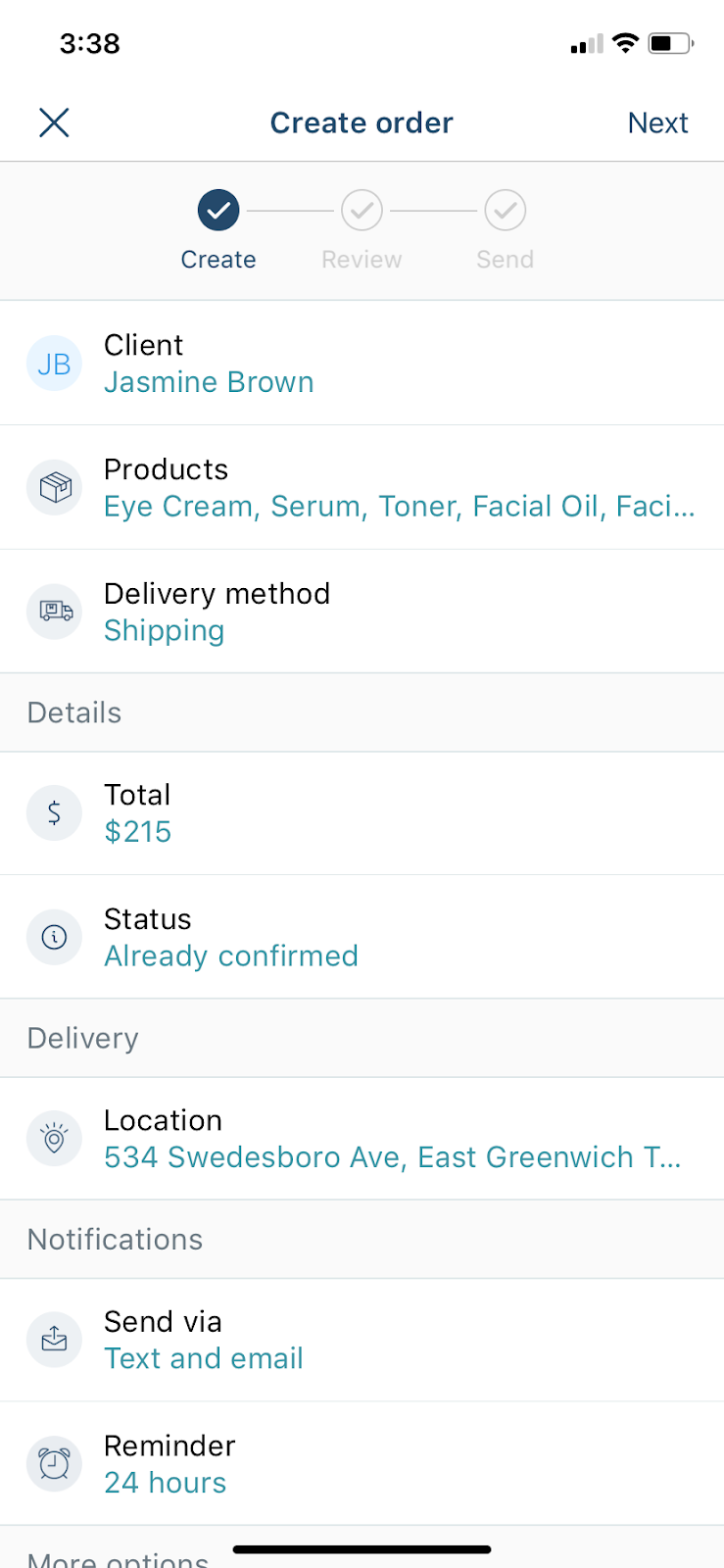 Note: The price automatically calculates based on the products you selected. If you want to apply a discount or adjust the shipping fee, tap on Total.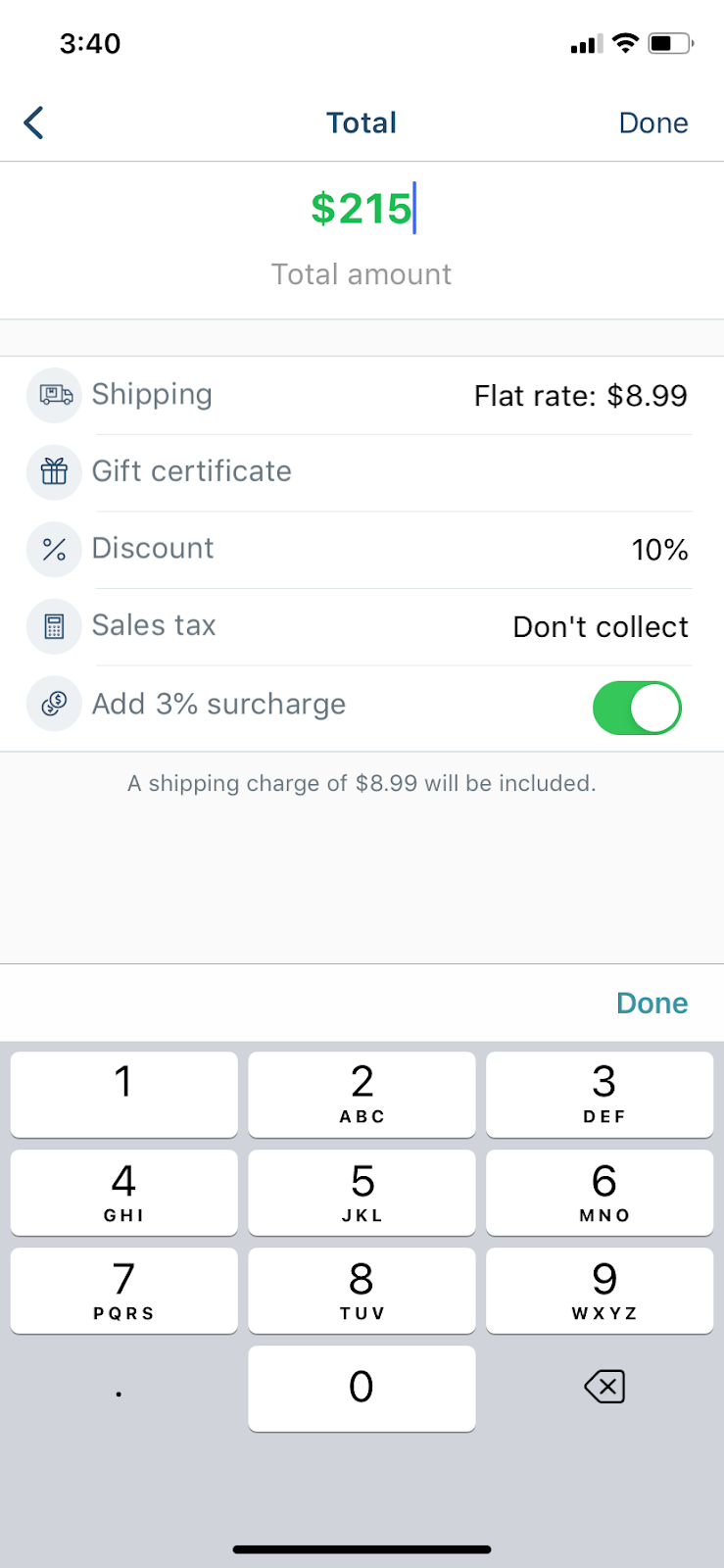 When you're all set, Tap Next to review your order.
Then, hit Send to confirm the order. (If you selected "Requires confirmation" when creating the order, you will have to request confirmation from your client.)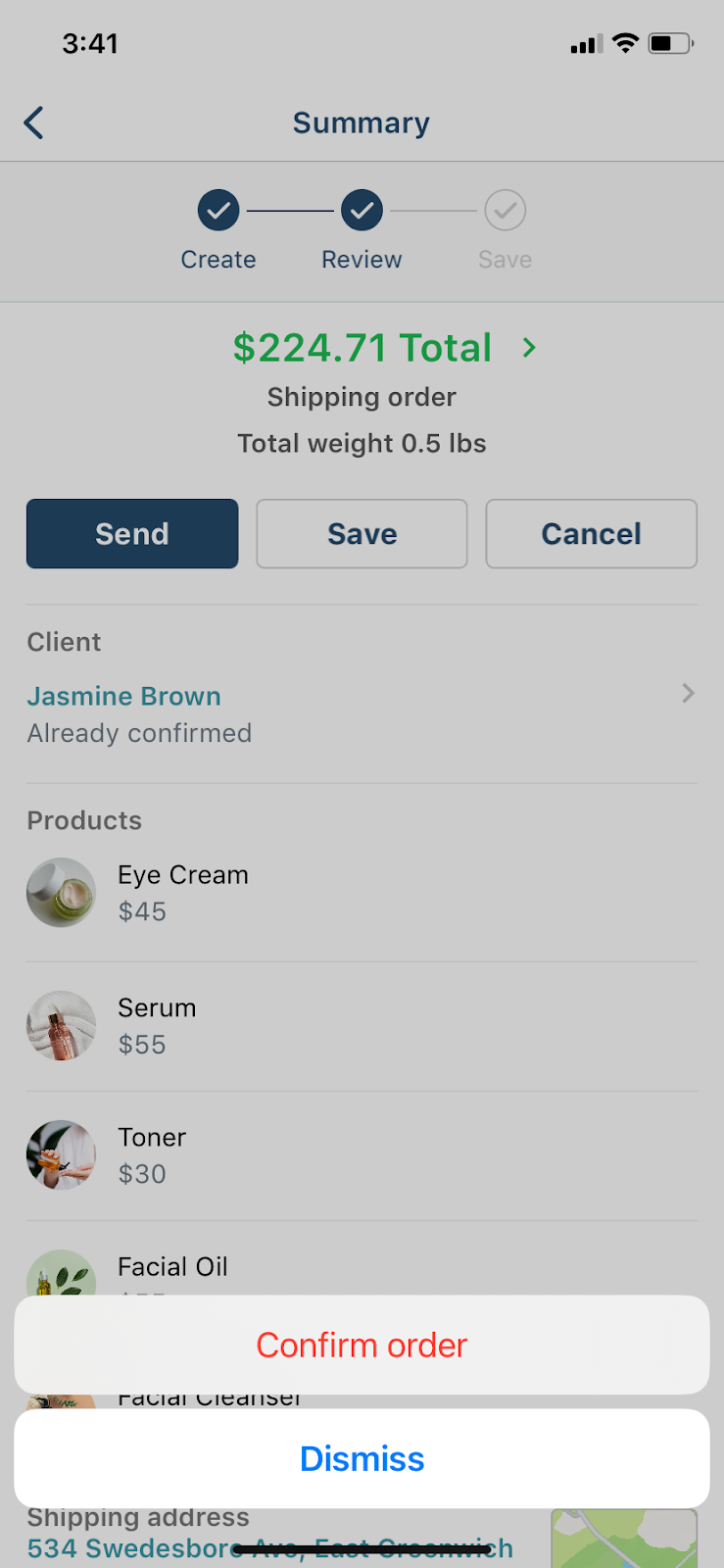 Once the order is confirmed, you'll see the option to Charge.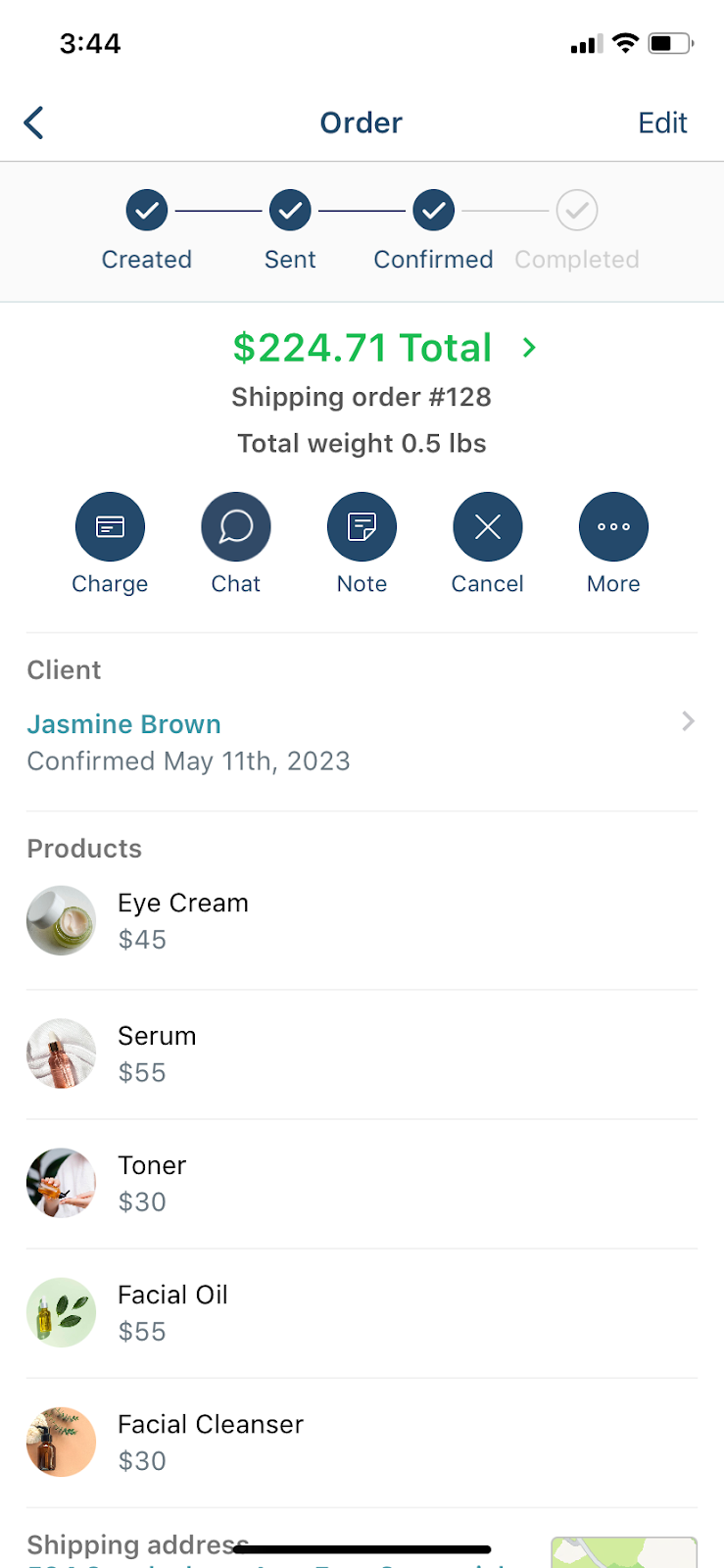 Perfect. Next step: process your client's payment!
Process Payments for Product Orders
When you're ready to process a payment, view the order and hit Charge. You'll see the keyboard below.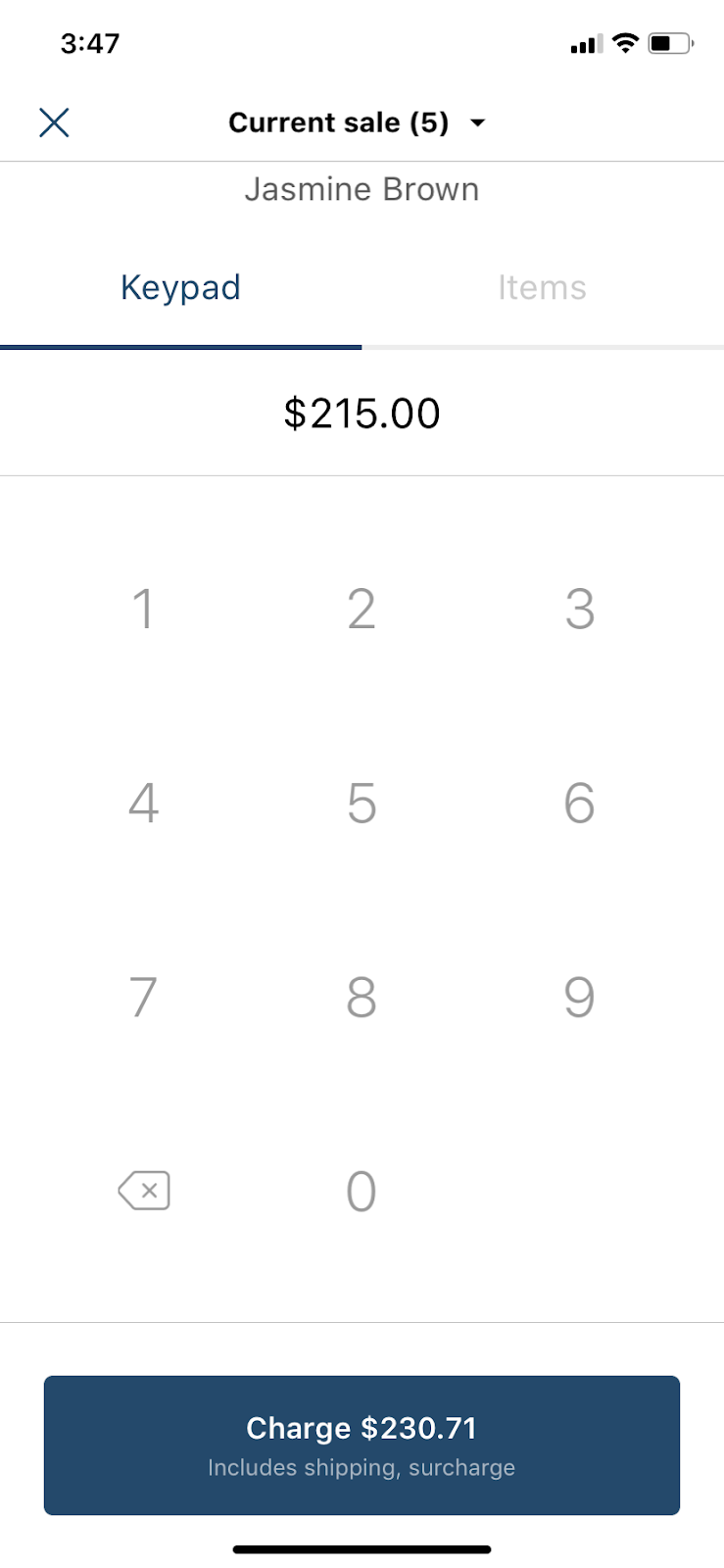 Tap Current sale to see a breakdown of the charges.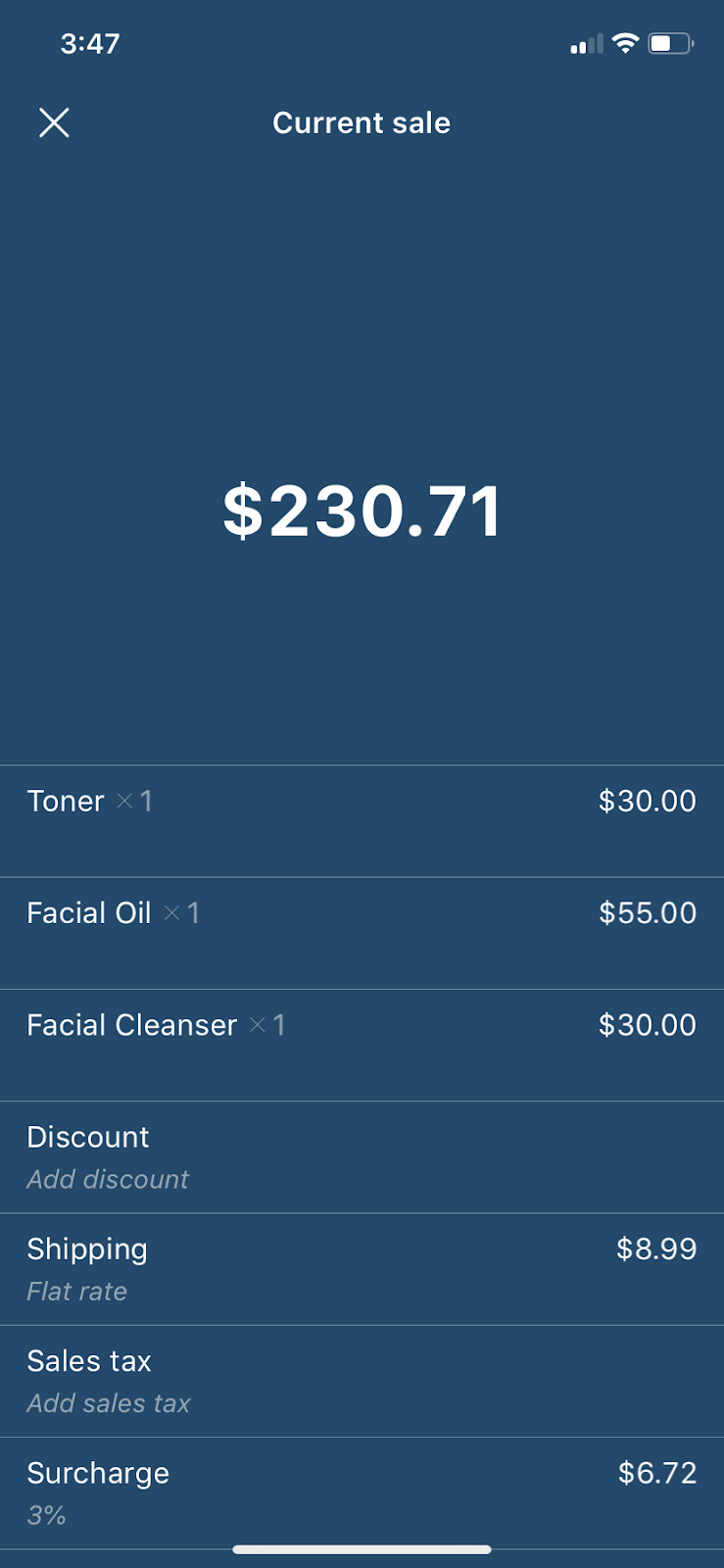 Select your client's payment method and follow the steps on the screen to complete the payment. Your client will be sent a receipt of payment.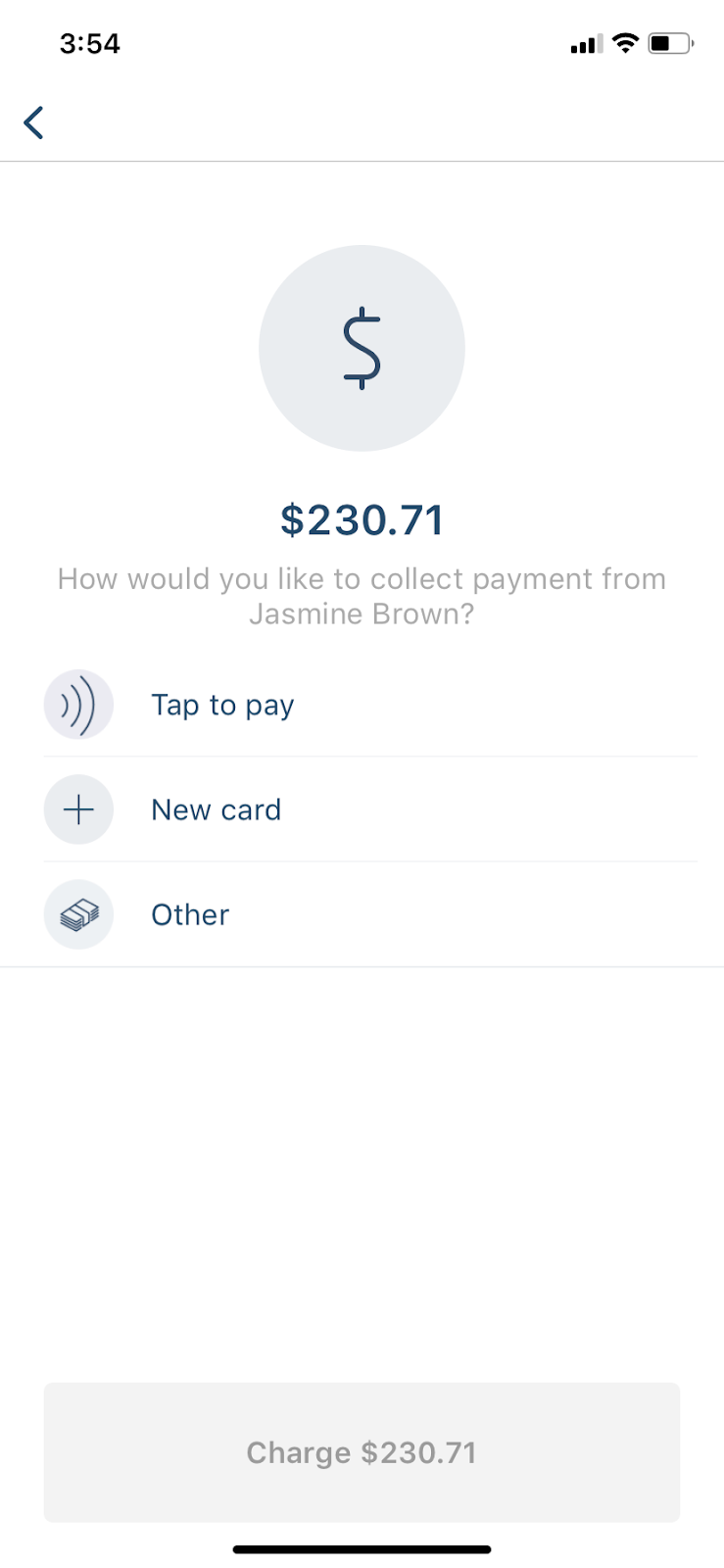 If the order is a pickup, tap More on the product order screen to see your payment options. Read this guide to learn more about accepting payments on PocketSuite.
Complete a Product Order
Your product order has been confirmed and paid for, great! Now, it's time to fulfill the order. When you're ready, go to Home>Orders and select the order.
Tap Complete.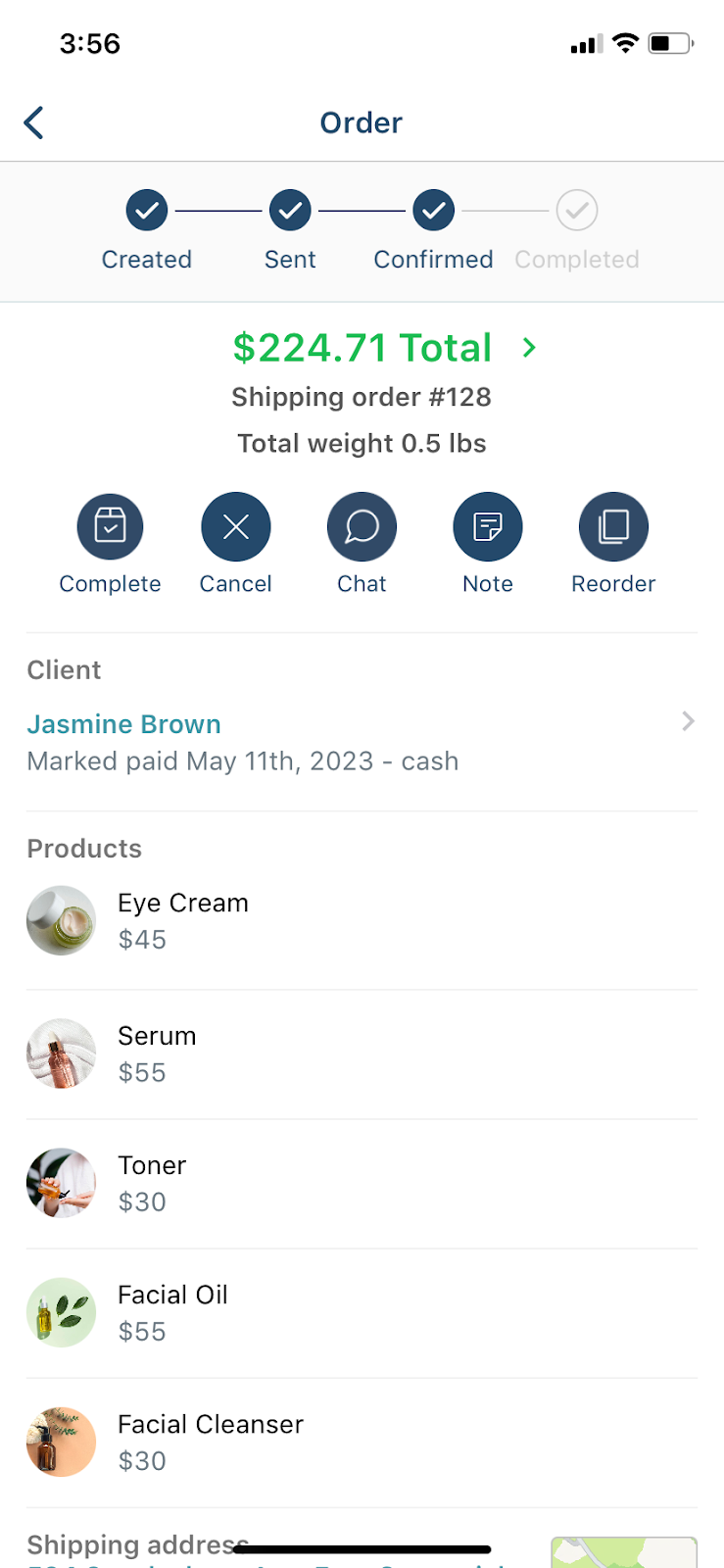 If the order will be shipped, you must provide a tracking number. If the order is a pickup, please add the pickup code.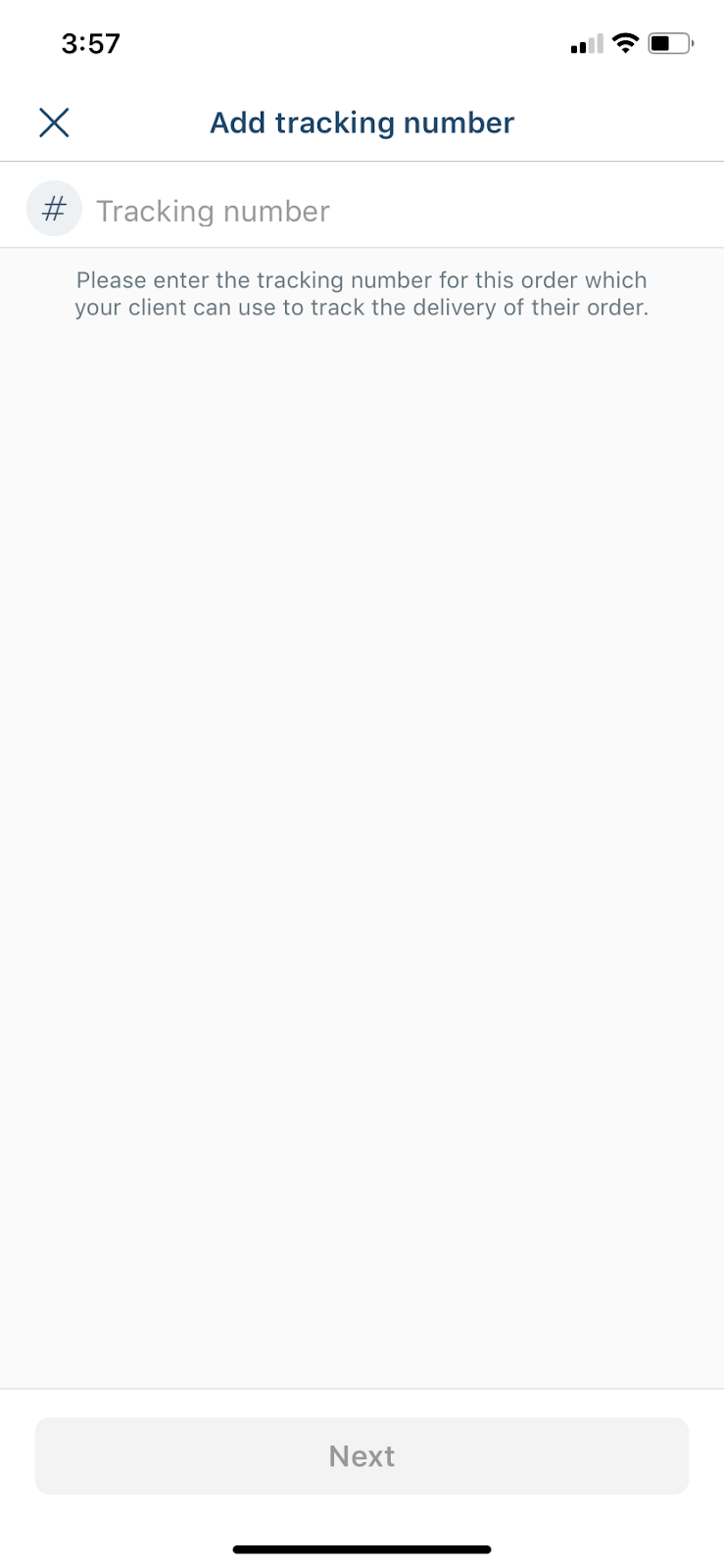 Tap Save and proceed.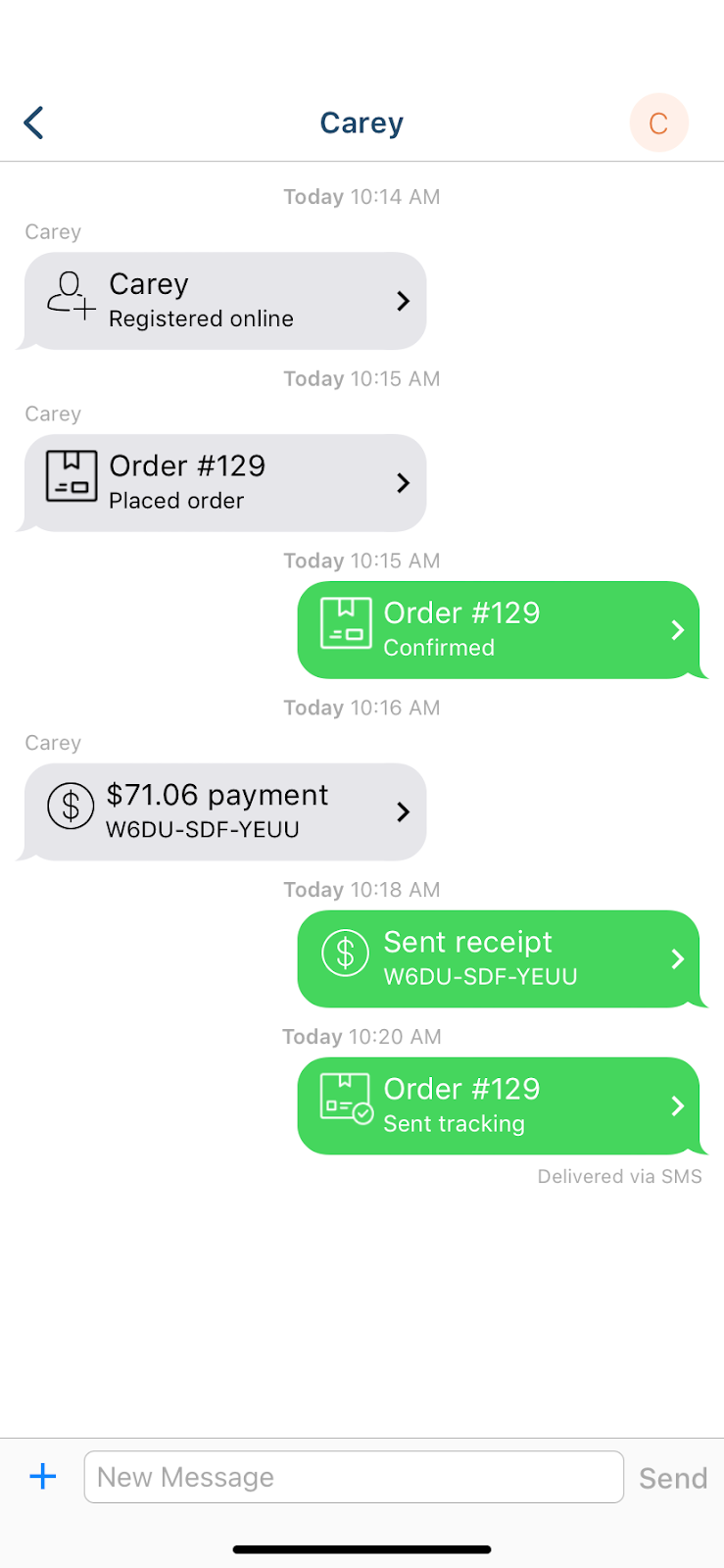 Here's what your client's tracking link will look like: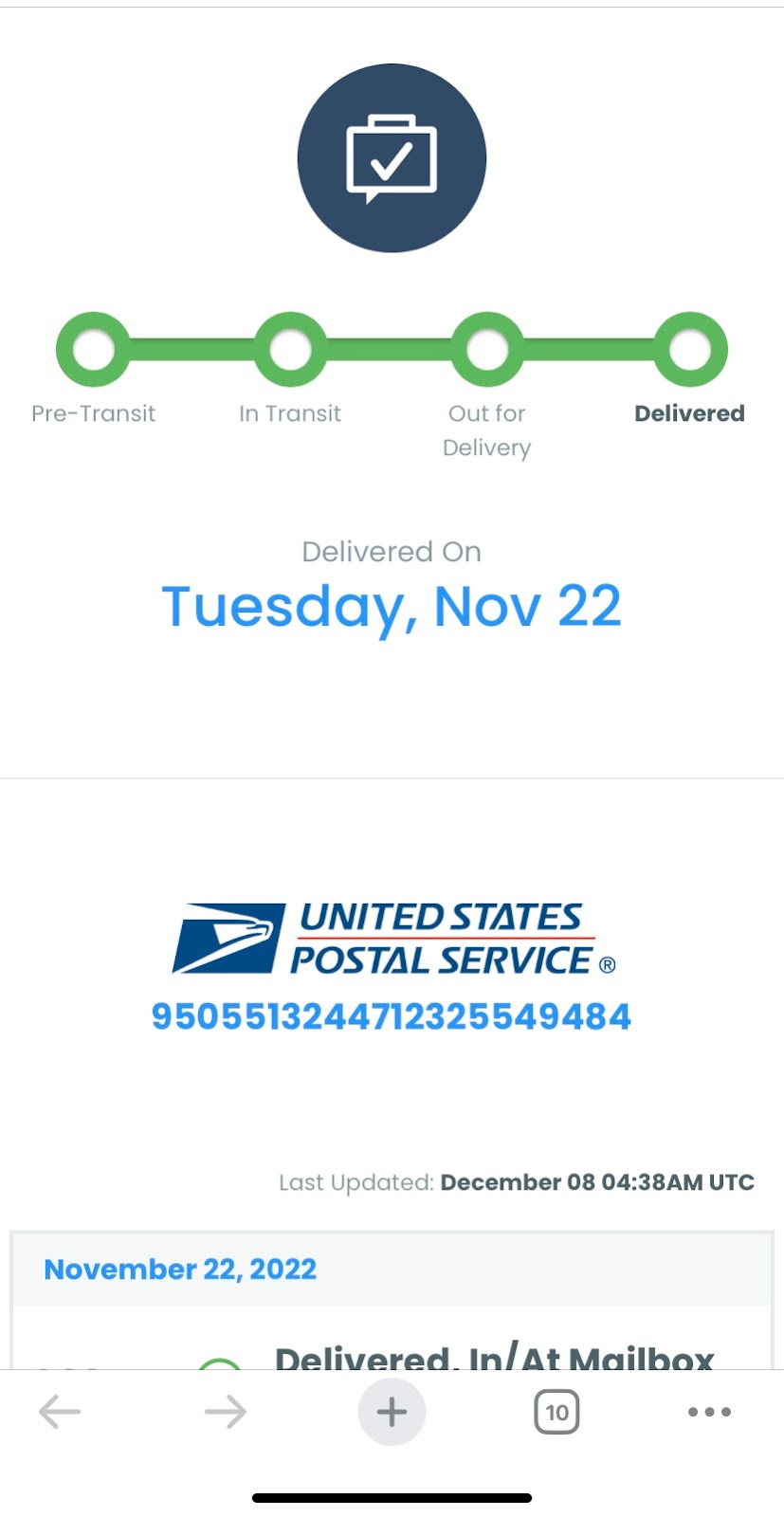 Important: If the order is a pickup, you will be able to charge your clients' cards and add the pickup code at their selected pickup time. The pick-up code will be sent to your client via text, email, or both when the order is confirmed.
When your client arrives, Charge their payment method, tap Complete, and then enter the pickup code when prompted: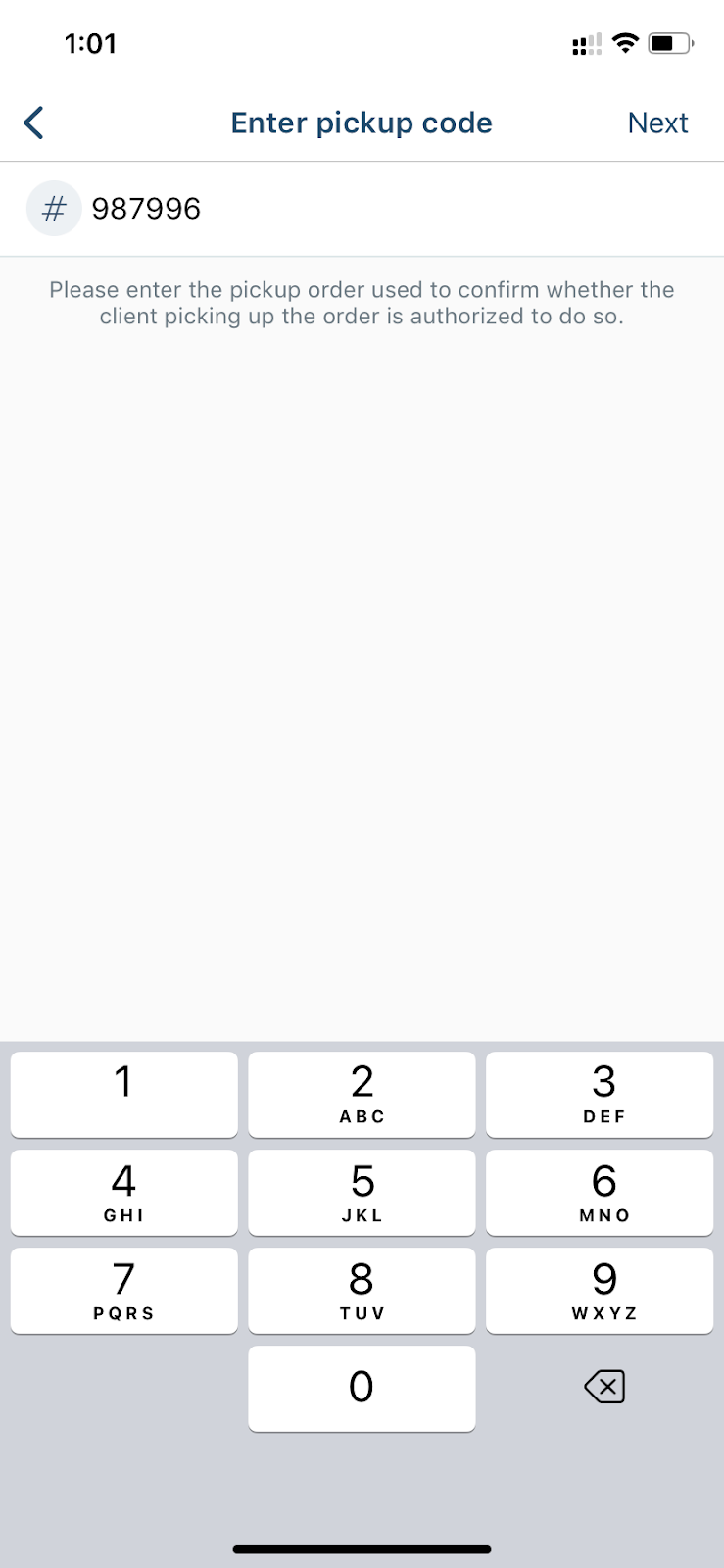 Here's what your client's pickup code link will look like: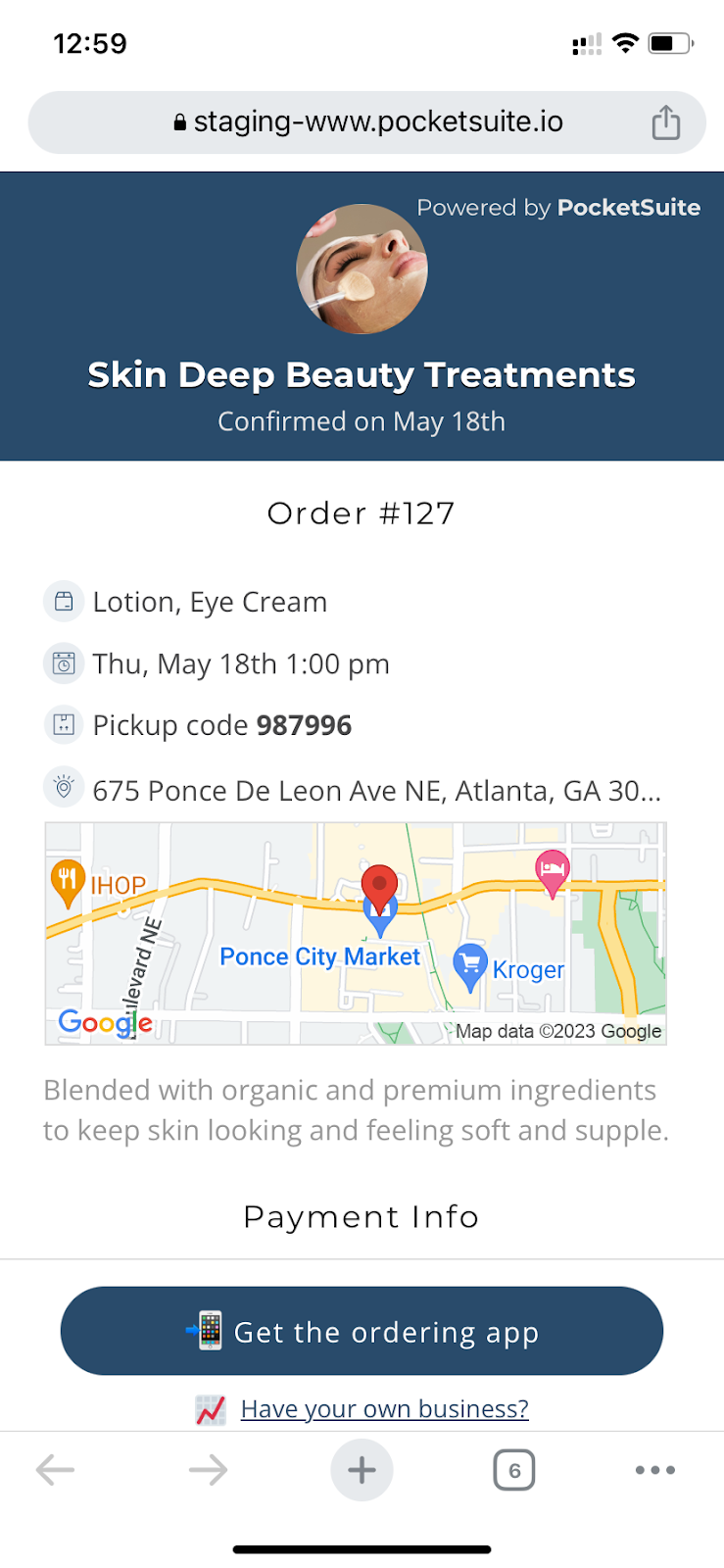 Now, you can sit back, relax and wait for your client to pick up or receive their order!
Important: We recommend setting a cancellation policy for all your product orders. If a cancellation policy is set, a credit card will always be required when clients buy your products online. Go to Settings>Cancellations>Product orders to set a deadline, fee, and policy for cancellations.
Preview Your Online Ordering Site
Want to know what your clients will see when they book you online? We got you covered! Head over to Settings>Online ordering.
Pro tip: You can setup Client Fields to be completed whenever an order is placed online or confirmed after you create it. You can use these fields to build out a client's profile as well as collect information specific to each order and have them more easily accessible than forms! Check out our article on Client Fields to learn how to setup these fields.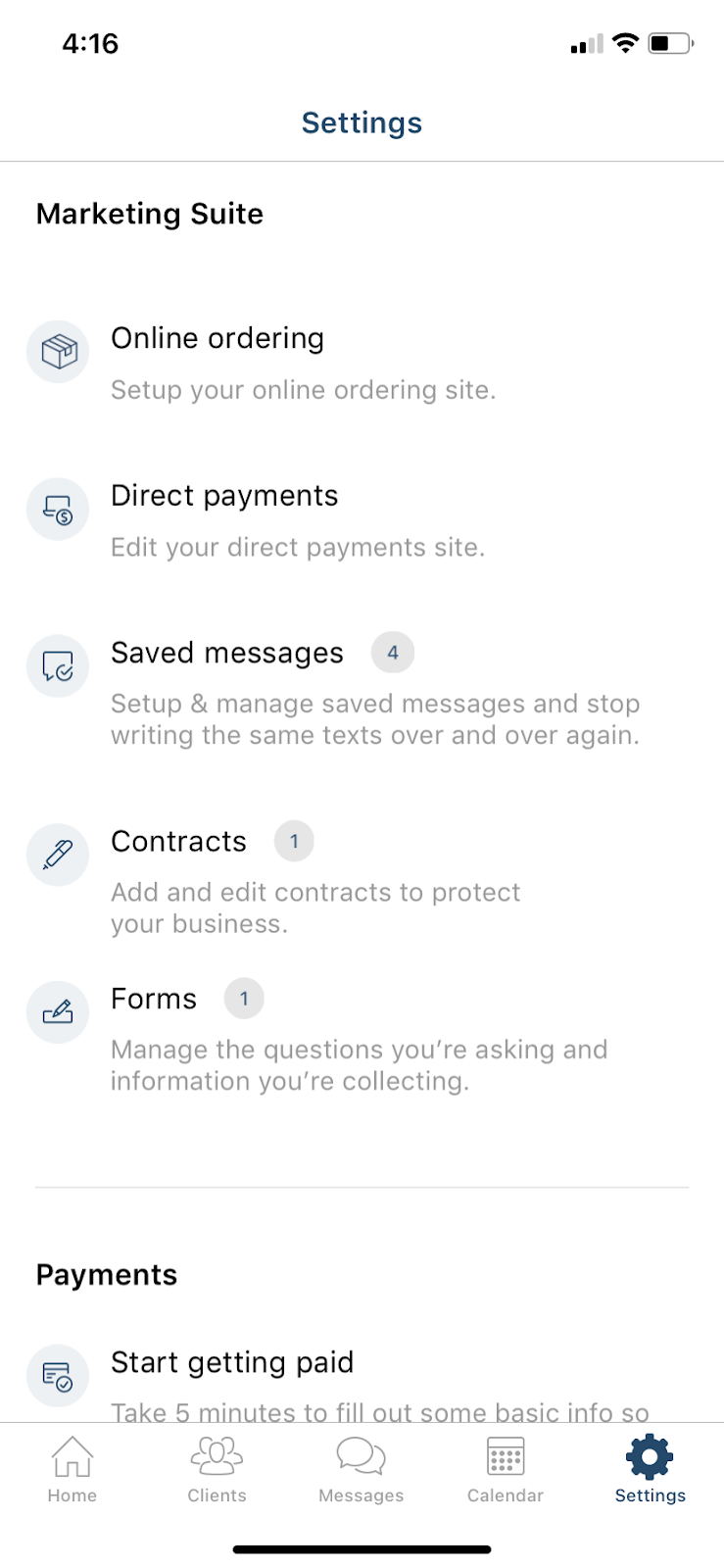 Then tap Share at the top of the screen and select Preview.
Your Online ordering site will open in a new browser window. Now you can go through the ordering process just like your clients would. Hit Shop now.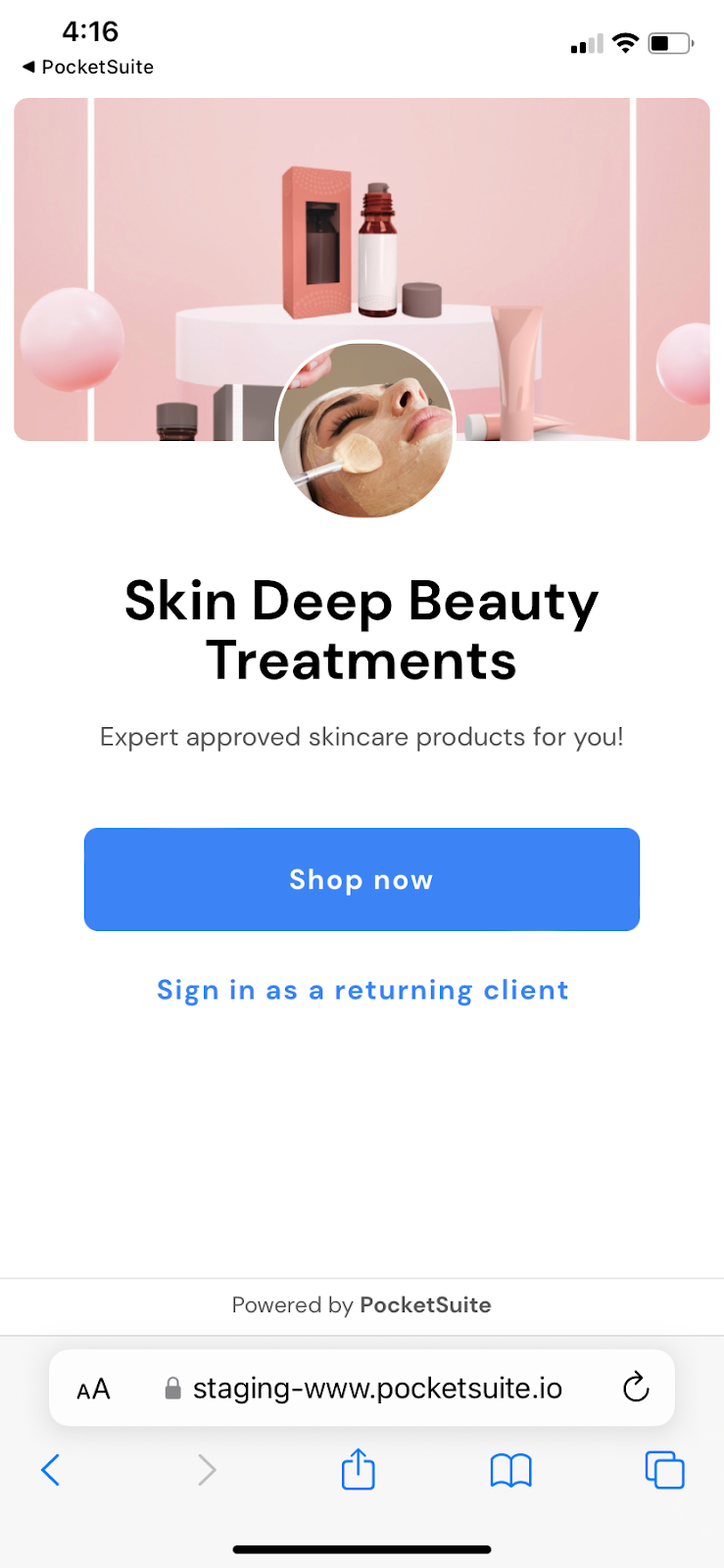 Select a category if you have categories set up.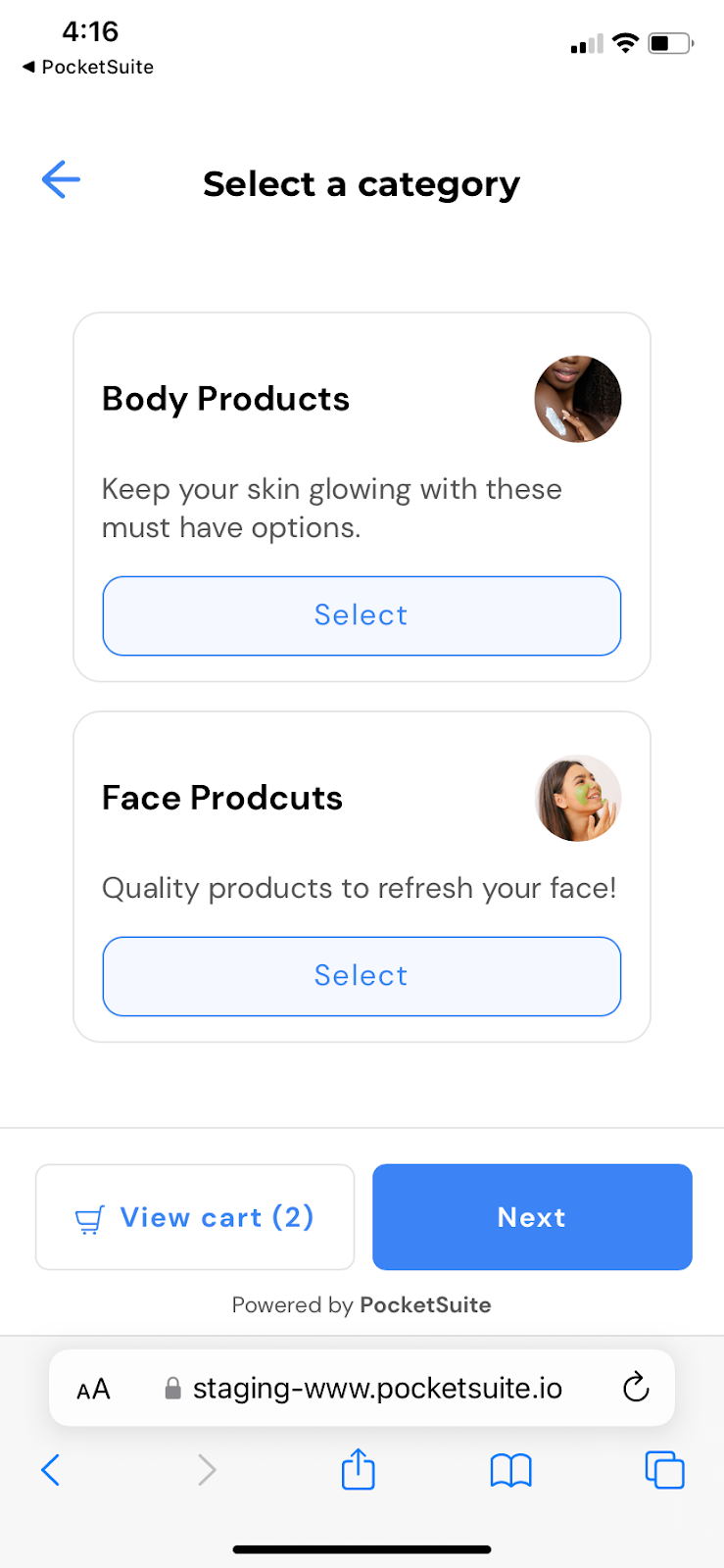 Add products to your cart.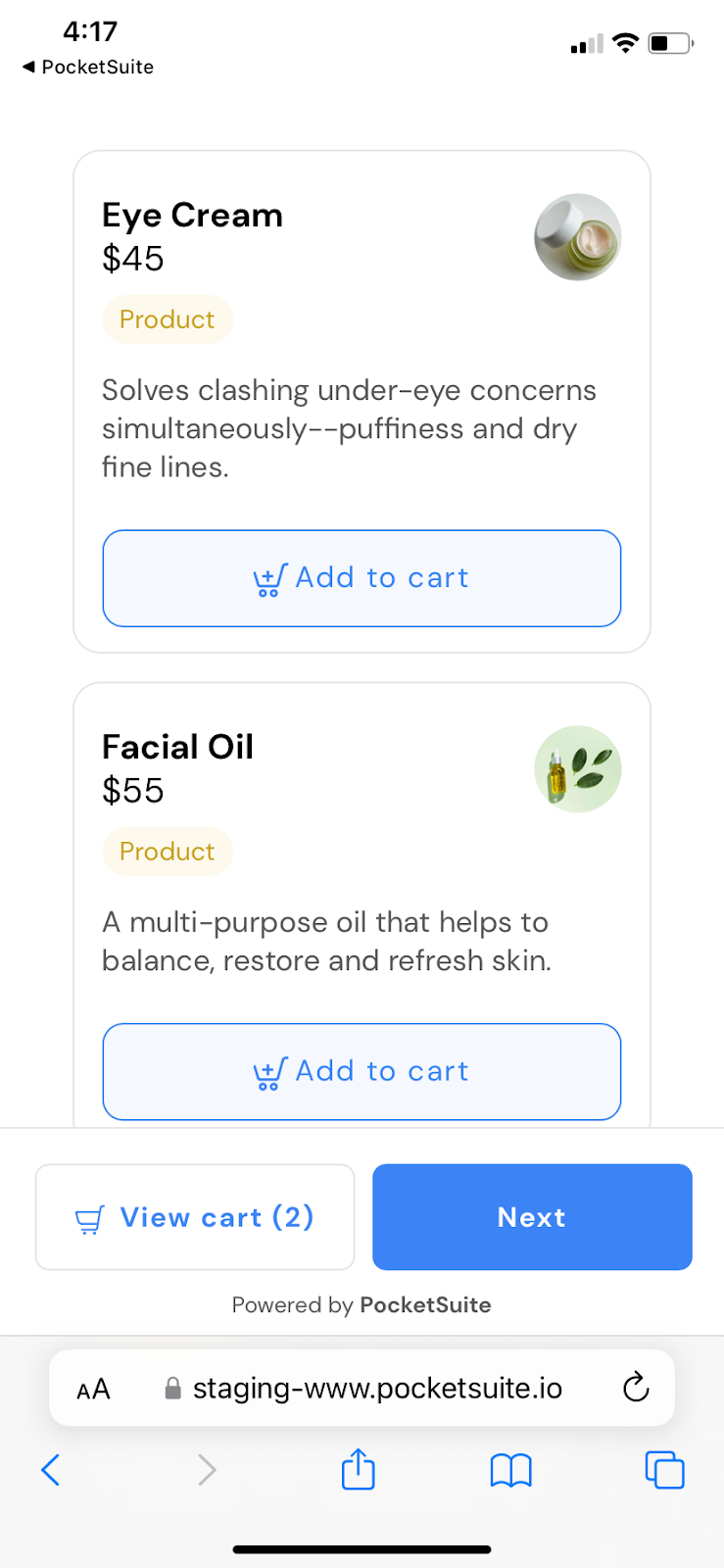 Then choose a delivery method. If you choose pickup, your clients will be able to select a pickup time before checkout.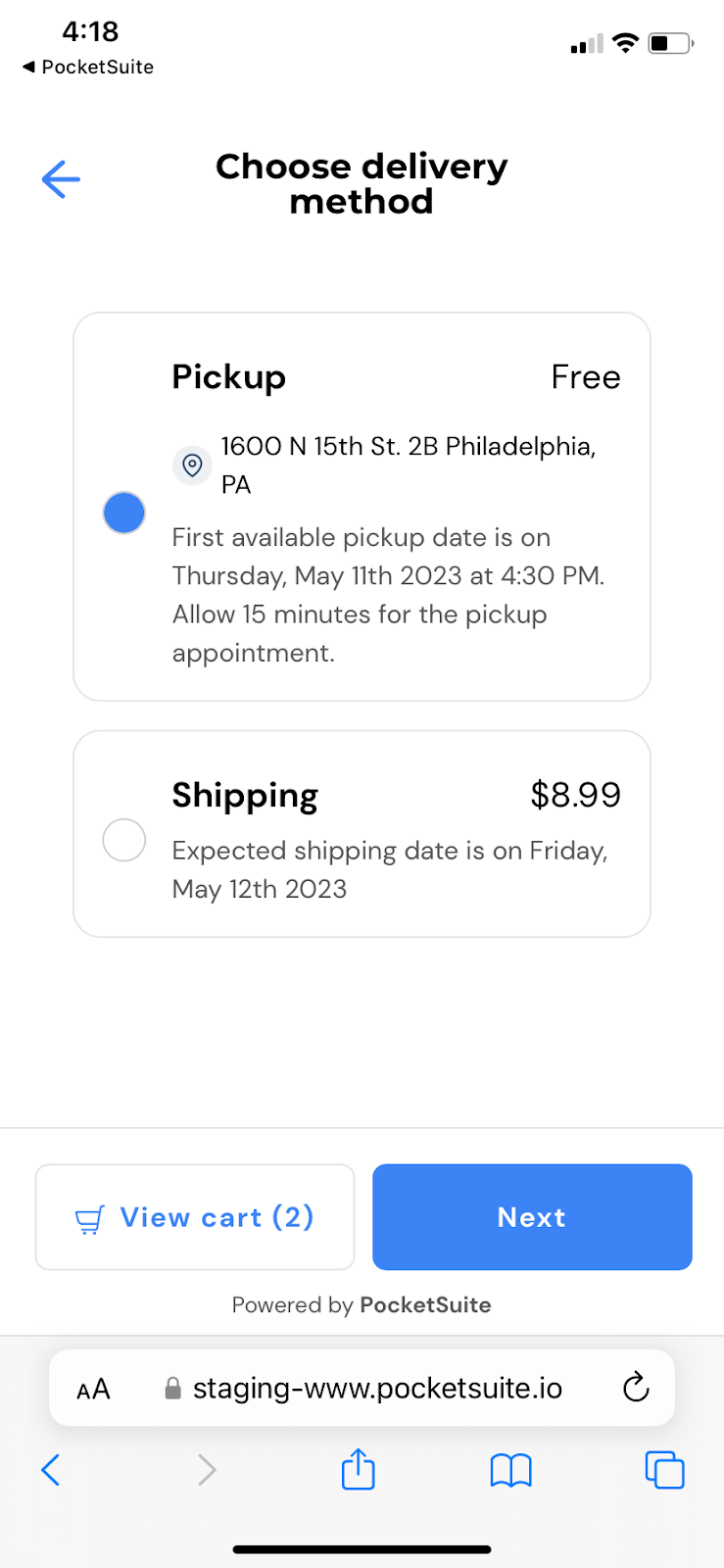 Pro Tips for Selling Online Products
#1 Add products to a category
Just like services, you can add products to categories and make it easier for clients to browse your online store. To add existing products to a category:
Make sure Categories are toggled on in Settings>Features>Categories.
Go to Settings>Categories and select the Products tab.
Tap the + , then select Create product category
Now, you can add existing products, a description, and a photo to your new category! Hit Save.
#2 Manage products from your PocketSuite calendar
You can view and manage product orders from your calendar. Tap the Calendar icon. Select a date to preview product orders. Tap the order you want to view or edit, and voila!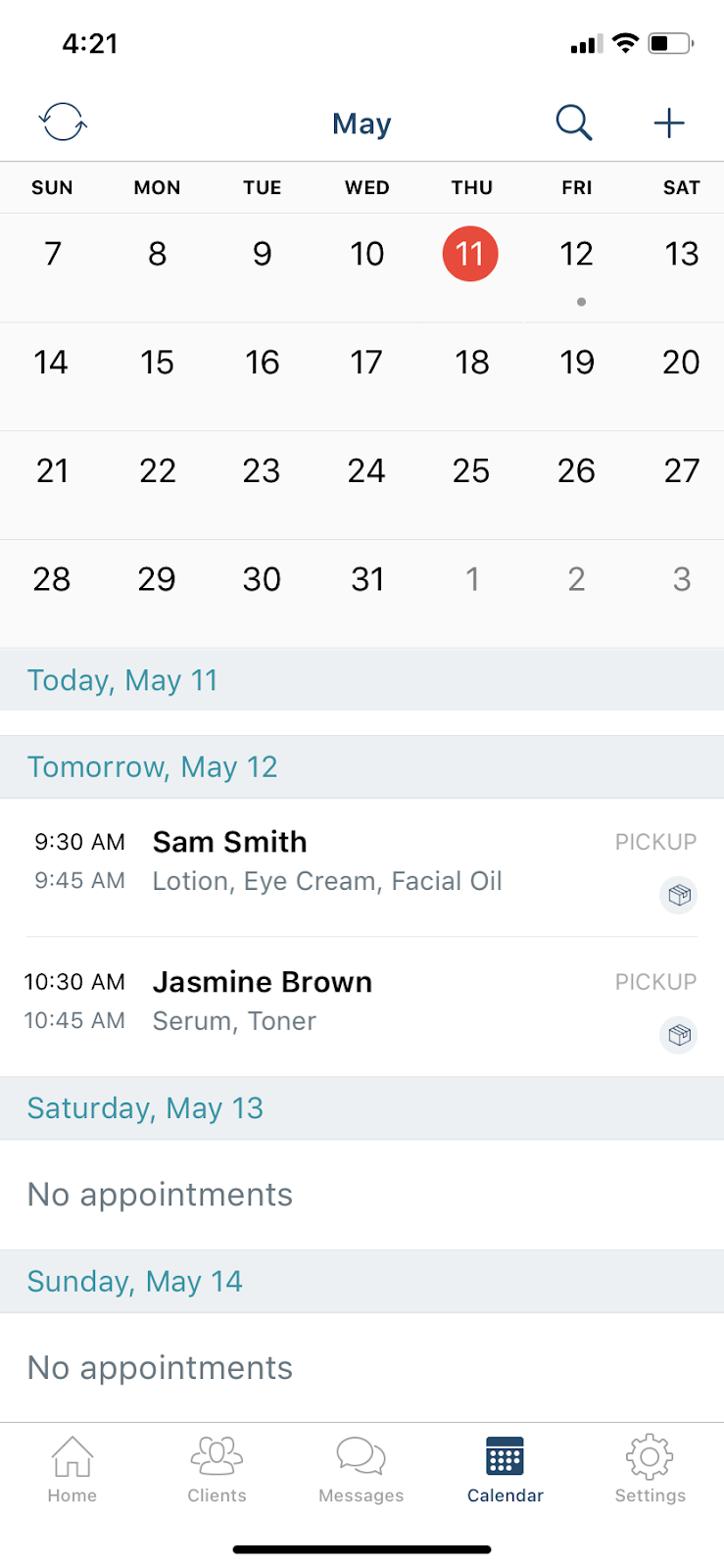 #3 Add product upsells to your services
You can attach product upsells to your services. When this is turned on, your client will be offered the product during checkout, i.e., more product sales.
Go to Settings>Services and select the service you want to add a product to.
Scroll down and tap "Add-on product." By default, all add-on products are upsold with the service. To specify, tap "Select products" and choose your preferred products to upsell.
If you don't see a product listed, make sure the product has "Show as add-on" toggled on in its settings.
#4 Promote products with Smart Campaigns
Text marketing is a great way to increase your product sales. You can use our "Make an announcement" campaign template to send a product promotion straight to your client's phone. You can also send follow-up messages to clients who buy your products!
Go to Home>Smart Campaigns>+. Then select Make an Announcement and choose which clients will receive the campaign. Fill out the Smart Campaign form with your special offer!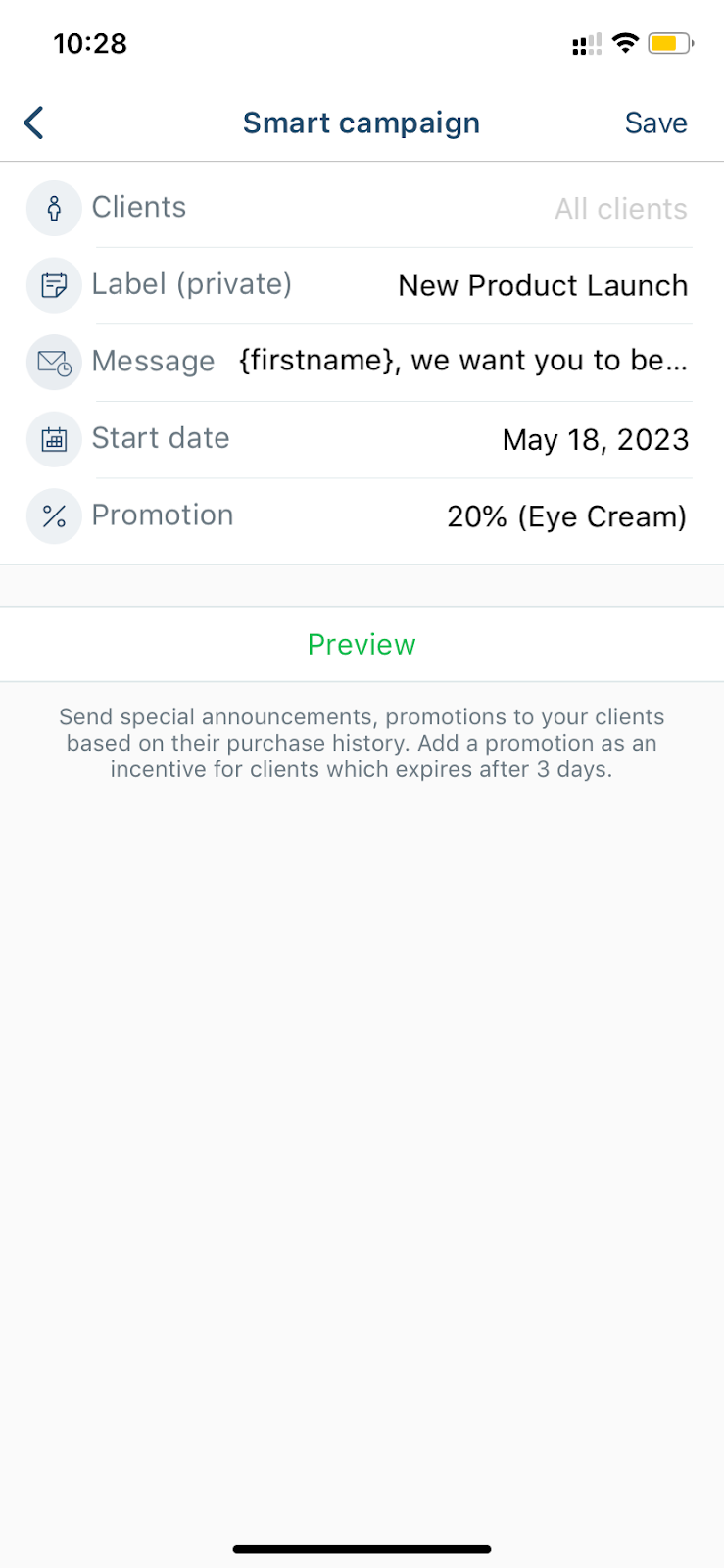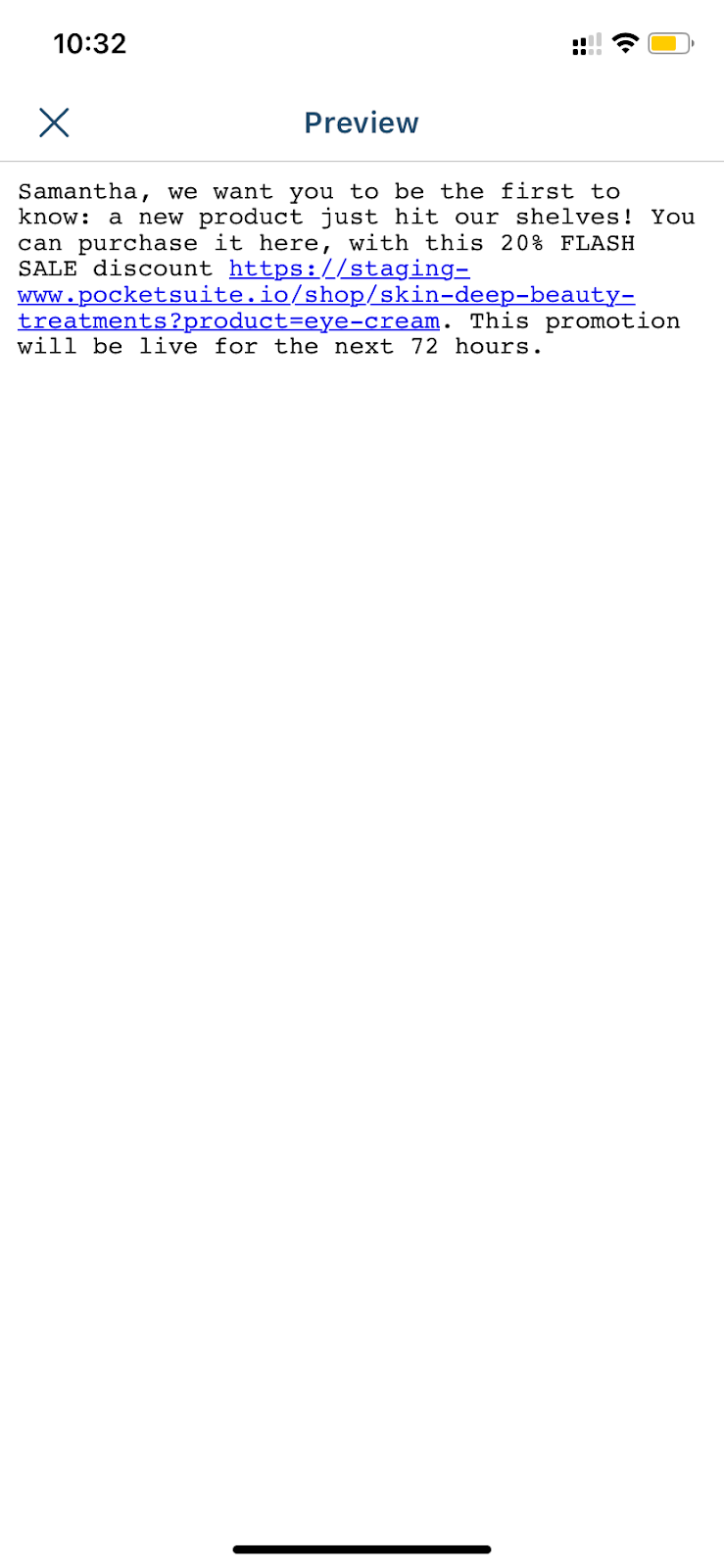 Video Setup: