At Pocketsuite, we provide you with a toll-free business phone number when you sign up for a free trial. This way, you can keep your personal number separate from your business number.
You can also upgrade to a local business number by tapping the banner on your home screen. A local business number has all the same functionality as a toll-free number, but it's local. Your customers will trust it more and be more likely to open your texts and pick up your calls.
Where can I find my Pocketsuite Business Number?
When you sign up for a free trial, you will receive a notice within the PocketSuite message thread and by email with your toll-free business number.
Once you pay a one-time $25 fee to upgrade your business number, you will receive a notice within the Pocketsuite message thread and by email with your new local business number.

Important: Be sure to notify your clients when you upgrade to a local business number. Start a Group Message or send a Smart Campaign to remind clients to update your contact information on their phone!

You can always find your business number under Settings > Business or under Settings > Number.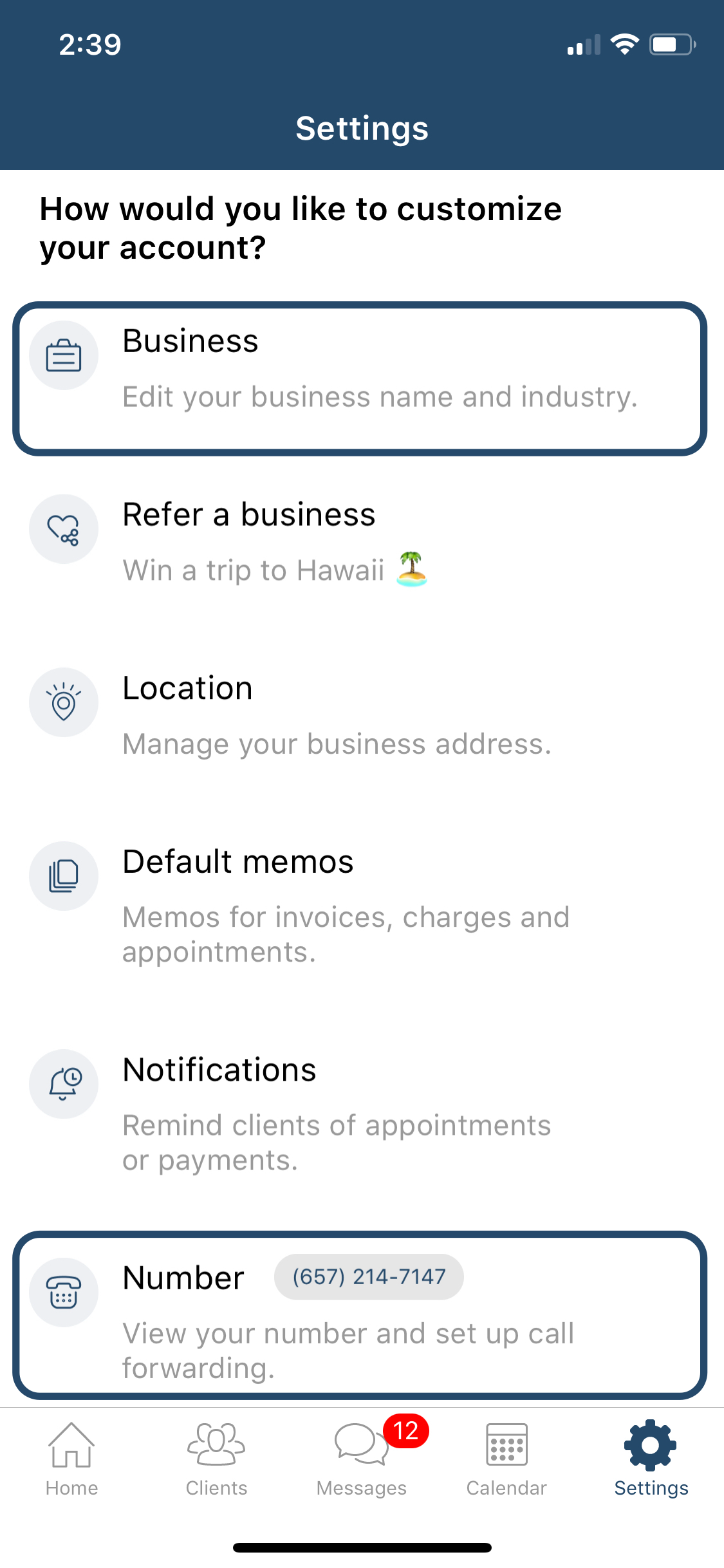 Can I change my Pocketsuite Business Number if I have one already? Can I request for another area code?
If you have a business number already that you would like to use instead, please check out this article on steps to port your number.
If you have upgraded to a local business number, you can definitely request another area code. Please message us in-app with this request.
How do I use my Pocketsuite Business Number?
It's simple! By texting within the Pocketsuite app, your clients will communicate with you using the business number. If you want to make an outbound call, simply tap on the client's name > phone number > use premium number > your cell phone number will ring > answer the call and it will automatically connect you over to the client.
When you tap on the client's number, you will be prompted to make the call using your personal number (dial) or your business number. Use your toll-free number or your local number so the clients will know they are receiving a call from your business.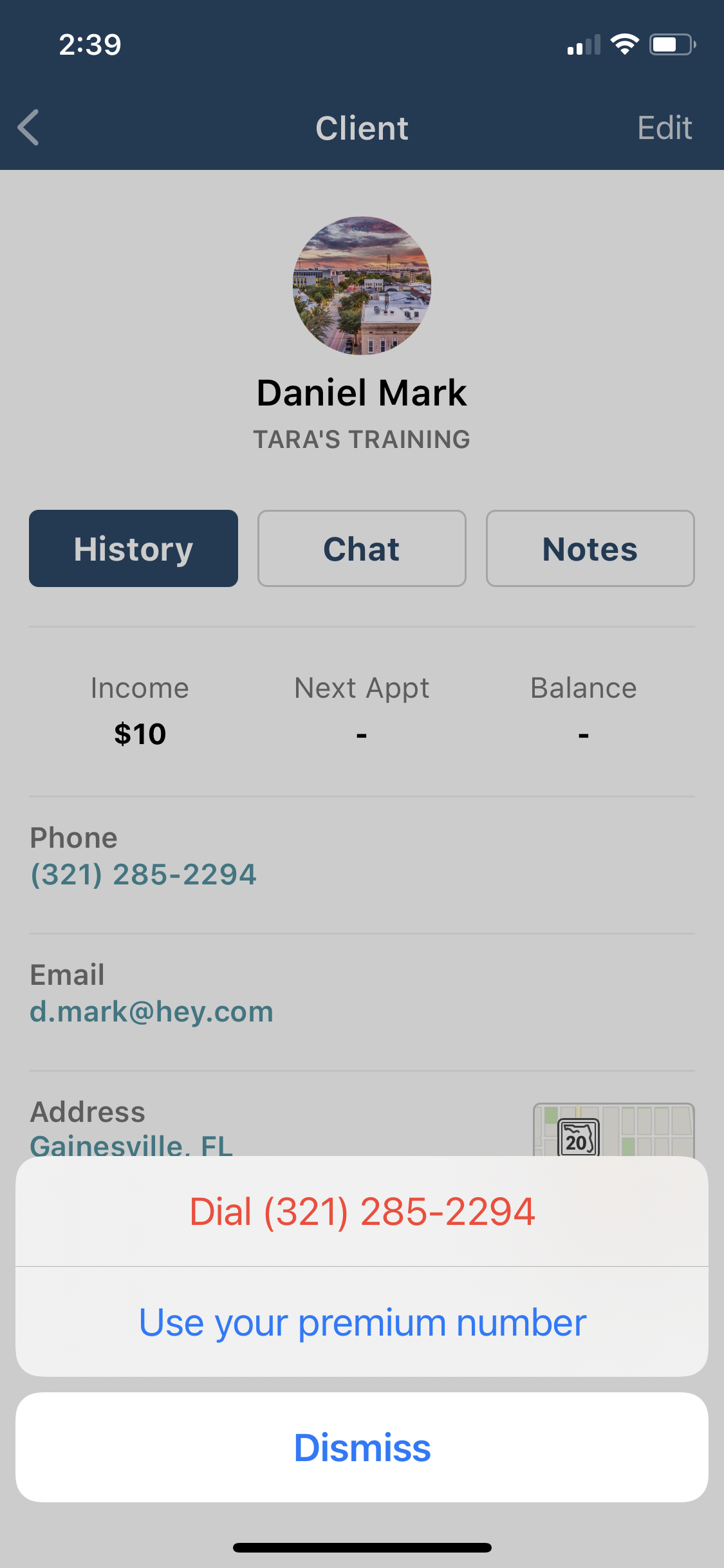 What happens when clients call me on my Pocketsuite Business Number?
There will be a notification banner showing that you are receiving a call to Pocketsuite. If you miss the call, a notification will appear in your client's message thread history.
How about my voicemail? Can I set one for my business?
Definitely! To set a voicemail, change your PocketSuite Login number to a Google Voice number. Then setup voicemail on your Google voice account. Then whenever someone calls you and doesn't reach you on PocketSuite, they'll be routed to your Google voice number and they'll hear your Google voice business voicemail greeting. Then you can update your personal voicemail for friends and family. Then you can use your Google voice number to login to PocketSuite going forward.
Otherwise, you can always set a default voicemail that can apply to all calls - personal and business.
What is The Campaign Registry (TCR)?
The Campaign Registry (TCR) is the telecom industry getting its "house in order" to reduce the growing problem of SMS text spam. Every telecom carrier is involved, including AT&T, Verizon, Sprint, T-Mobile, and more and every company that issues local business lines, such as Google Voice, RingCentral, and PocketSuite is affected.
The regulation will require all local business lines to register with the TCR. Those who don't will become subject to spam filtering. When you upgrade to a local business number, PocketSuite takes care of your required federal TCR registration.
If you were issued a premium business number from PocketSuite before September 1st, 2023, and did not complete TCR registration, PocketSuite will still work as before. Your text reminders will go out, and your scheduling and booking functionality will be unaffected. However, the 99.9% deliverability rate for your text messages that you currently enjoy on PocketSuite is likely to decline. Telephone carriers may block texts because of word choices in your text messages or for no reason at all without a successful TCR registration. If you use PocketSuite's business SMS text features, we highly recommend that you complete a TCR registration.
Video Setup: